The Hellstrom Chronicle
(1971)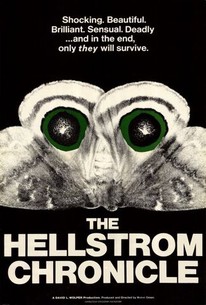 The Hellstrom Chronicle Photos
Movie Info
Professor Hellstrom (Lawrence Pressman), a famous entomologist, is so shaken by the savagery and ferocity he sees in the world of predatory insects that he films this "documentary" to warn mankind that it is in danger. Included in the accompanying documentary footage are such spectacles as a war between opposing colonies of ants and the cannibalistic mating practices of the praying mantis.
Critic Reviews for The Hellstrom Chronicle
Audience Reviews for The Hellstrom Chronicle
½
Using paranoid purple prose, fictional scientist Dr. Hellstrom narrates this documentary about the evolutionary superiority of insects compared to humans and the inevitability of their eventual triumph over us. Edifying, entertaining and vaguely psychedelic in its presentation; it's like a mondo horror documentary, with scenes of a bulbous termite queen spitting out eggs, a battle between invading wasps and a swarm of bee defenders, and a horde of millions of army ants marching across the savannah consuming every plant, insect or reptile in its path.
The Hellstrom Chronicle Quotes
There are no approved quotes yet for this movie.