Hellion
(2014)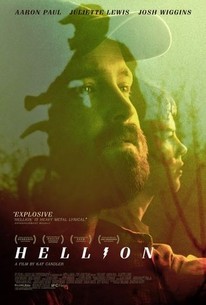 Movie Info
Writer/director Kat Candler's HELLION paints the powerful portrait of a family on the brink of dissolution set against the haunting backdrop of the refineries of Southeast Texas. Obsessed with heavy metal, dirt bike racing and partaking in the occasional act of vandalism with his band of delinquents, the behavior of 13-year-old Jacob Wilson (Josh Wiggins in his feature film debut) has begun to raise concerns around town, especially when it starts to involve his younger brother Wes (newcomer Deke Garner). While the boys' father Hollis (two-time Emmy Award-winner Aaron Paul) loves his sons, he is still reeling from the loss of their mother, spending more time drowning his sorrows at the local bar and working on his damaged beach house than being an active parent. (c) IFC Films
News & Interviews for Hellion
Critic Reviews for Hellion
Audience Reviews for Hellion
Coming of age films are a dime a dozen, and what it really comes down to is the stregth of the young actor or actress. The way it usually works out is that the better they are, the better the film is, and when it comes to Hellion, casting was dead on, but there was also something else that made this one special. After losing his mother, Jacob Wilson (Josh Wiggins) started acting out. Maybe his fathers transformation into a full blown alcoholic had something to do with it, or maybe it's the fact that he's left to be the adult and take care of his little brother that's the problem, but whatever the case it gets a whole lot worse. After stupid teenaged behavior causes his younger brother to be taken away and placed with his aunt, Jacob has to become the adult and convince his father to clean up in order to bring his little brother home, a herculean task, when you consider the fact that Jacob himself is still a wreck. The young star of the film, newcomer Josh Wiggins is absolutely terrific, outshining multiple award winning actors and actresses in this film, but he's not the only difference here. Hellion takes on the dark southern poverty stricken surreal feeling of other similar films that have become extremely popular in recent years. Similar to Winter's Bone, Joe, and Mud, there is an aspect to this film that is methodical and real. It's almost like you aren't watching a movie, you're just seeing real life unfold in front of your eyes. This combined with an extraordinary young talent made this extremely enjoyable to watch. Everything was very raw, emotional, and just real, a credit to both the writer, director, and cast involved in Hellion. This style is fairly new in cinema and has really defined the 2010s era, to see it combined with something that was so relate-able made for a very special film.
Todd Smith
Super Reviewer
½
Josh Wiggins does an amazing job in his portrayal of the troubled teen trying to take care of his brother. Aaron Paul is also good, but the direction is the best part. Great movie that feels very realistic when you watch.
Jarrin Rozenblad
Super Reviewer
½
With a powerful performance by Aaron Paul and very believable teenagers played by the whole cast, "Hellion" is a deep and meaningful story that often fails to connect when it needs to, but other times when it does, it does so with vigorous pride. After the death of his wife, Hollis (Aaron Paul) must deal with his teenage son getting in trouble with the law and dragging his younger son into that trouble, all while dealing with a depressing drinking problem. There are many themes explored throughout this film, but it never seems lie enough, and I normally enjoy open endings to great films, so that it keeps me guessing, but this felt a little too unfinished for my liking. "Hellion" is a great story, told very well, but it is not without it's faults. Aaron Paul has a bright career ahead of him, and I cannot wait to see what he does next.
Hellion Quotes
There are no approved quotes yet for this movie.