Hellbound: Hellraiser II
(1988)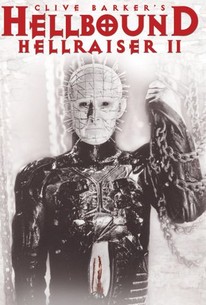 TOMATOMETER
AUDIENCE SCORE
Critic Consensus: Hellbound: Hellraiser II retains the twisted visual thrill of its predecessor, although seams in the plot are already starting to show.
Hellbound: Hellraiser II Photos
Movie Info
After her harrowing experiences in Hellraiser, Kirsty Cotton (Ashley J. Laurence) is a patient in a mental hospital under the care of psychiatrist Dr. Channard (Kenneth Cranham). Although outwardly calm, the demonic doctor unlocks the door to hell when he figures out the Lament Configuration. After he brings Kirsty's evil stepmother Julia (Claire Higgins) back from the dead, Kirsty, fellow patient Tiffany (Imogen Boorman), the evil doctor, and Kristy's stepmother all descend into the depths of hell. They battle the evil flesh-eating villains known as the Cenobites in this blood-and-guts gorefest. Kirsty hopes she can rescue her father from spending eternity in hell.
News & Interviews for Hellbound: Hellraiser II
Critic Reviews for Hellbound: Hellraiser II
Audience Reviews for Hellbound: Hellraiser II
½
Let's start with the improvements over the Clive Barker predecessor: Christopher Young's baroque score is more akin to a demonic music box this time around and the concept of the demystifying backstory for Pinhead as a field officer is quite tantalizing to ponder. Once those elements have been broached, the film gradually degrades into a senselessly gory retread of the original (along with a lengthy recap and clip show from the indelible first film) with Julie as the incomplete corpse instead of Frank. An inmate flaying his skin of maggots is definitely repulsive and most of the effects border on that level of gratuitous and unnecessary. Upon entering Hell, the sets are kitschy with funhouse mirrors and endless staircases like an MC Escher painting. The images are never truly unnerving and the slapdash defeat of the Cenobites by Channard (and his cheesy stop-motion tentacles) are an insult to their formidable menace. To watch a humanized Pinhead gurgling for breath after a slit throat is depressing indeed. Overall, the brooding film capsizes quickly from brazen 'Snow White' allegories and overblown effects.
Cory Taylor
Super Reviewer
The follow-up to Clive Barker's Hellraiser is a terrific horror flick with a great cast, great effects and very good directing provided by Tony Randel. As far as sequels are concerned, Hellbound is one of the better sequels in a horror franchise. Usually a sequel tends to lack the power of the original film, however this is not the case for Hellbound. Though not as great as Hellraiser; this film has all the necessary elements to create the effective terror that Hellraiser fans have come to expect. This film is designed to disturb its audience and like the first film, it does it very well. Though Clive Barker didn't direct this film, you can still see his imagination run wild throughout the film. The film succeeds at delivering dark images of melancholic painful terror. This film is a worthy enough sequel to Clive Barker's original masterpiece, and it continues where the first left off. Lead actresses Clare Higgins and Ashley Laurence reprise their roles from the first film, and it brings an even greater sense of continuity to the film. Fans of the first film will most likely enjoy this film, and like the first Hellraiser, it remains a must see film for fans. This is the best sequel in the entire franchise, and as the series progressed; it's easy to see why. If you've enjoyed the first film, then give this one a view, you'll most likely going to enjoy it as much as Barker's classic of terror.
I think I prefer the story line of this one over the first. The first film did drag a bit until the end. It was good to see more of the Cenobites in this one. Parts of it were repetitive though, still very gory and unusual though. If you liked the first check it out.
Hellbound: Hellraiser II Quotes
There are no approved quotes yet for this movie.