Hell Is for Heroes
(1962)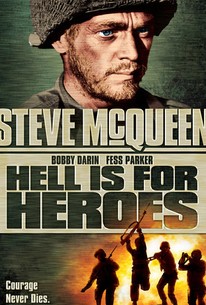 Hell Is for Heroes Photos
Movie Info
Don Siegel's only war film and unfortunately his only teaming with Steve McQueen, an actor whose rebellious persona jibed well with the director's vision, it puts the star in the familiar role of antihero. His character, Reese, is an embittered G.I. who has just been sent back to join his war-weary unit holding down a position opposite a pillbox on the Siegfried Line in Belgium. Recently demoted back to private from staff sergeant for drinking, he chafes under all authority, and is a pariah to fellow grunts, despite their awareness of his extraordinary courage in battle. A natural leader, he persuades his sergeant (Harry Guardino) to implement a plan he's formulated to keep the Germans at bay by making them believe that the small outfit is larger than it is. While this is temporarily effective, Reese knows that it's only a matter of time before the enemy discovers the truth, and takes it on his own authority to lead an attack on the well-defended pillbox, although his unit has been assigned only to hold their ground.
Critic Reviews for Hell Is for Heroes
Audience Reviews for Hell Is for Heroes
A squad of six US soldiers are ordered to hold a section of The Siegfried Line alone during WWII and so come up with ever more creative ways to disguise their numbers. Hell Is For Heroes was directed by Don Siegel who went on to become one of the best directors of hard-boiled action thrillers around (Dirty Harry being the most famous example) and he shows his skill for economy and gritty violence in this unpretentious and authentic depiction of combat. Steve McQueen shows his star quality as an embittered and possibly shell-shocked ex-sergeant who takes matters into his own hands when they are discovered and his performance is fantastic. In fact the entire cast are great (especially James Coburn who would co-star with McQueen again in The Magnificent Seven), the banter and comedy of the earlier scenes really nicely balanced with some brutal battle scenes later in the film. It concentrates more on the soldier on the ground than trying to sketch out the big picture, showing that there is a thin line between heroism and mental illness and although the climax is a little lacking in closure, it's a powerful and realistic war film ranking amongst the best.
This tense, gritty World War II drama is heaven for action fans and a riveting performance by Steven McQueen. Director Don Siegel was at his riveting best, drawing the viewer into the claustrophobic, nightmarish atmosphere. Filmed in stark black & white, Siegel's film succinctly captures the fatal brutality of war, in terms perhaps not as graphic, but every bit as effectively as Steven Spielberg would do some thirty-six years later with his monumental film Saving Private Ryan. There is good dialogue with the GI's - Bob Newhart is real funny.
Dean McKenna
Super Reviewer
Hell Is for Heroes Quotes
There are no approved quotes yet for this movie.