Hell Baby
(2013)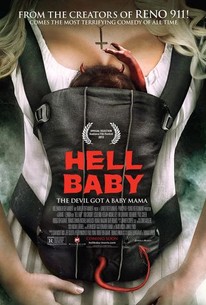 TOMATOMETER
AUDIENCE SCORE
Critic Consensus: Though its brand of immature comedy may appeal to some, Hell Baby misses the mark with much of its humor, rendering it a largely ineffective -- and often crass -- genre sendup.
Movie Info
HELL BABY, a comedy scripted by Thomas Lennon and Robert Ben Garant (Night at The Museum, Reno 911!: Miami) marks their co-directing debut. Jack (Rob Corddry) and Vanessa (Leslie Bibb) are an expectant couple that moves into the most haunted fixer-upper in New Orleans -- a house with a deadly demonic curse. Things soon spiral out of control for Jack and Vanessa, as well as their-not-so-helpful neighbor F'Resnel (Keegan-Michael Key), Vanessa's friendly psychiatrist (Michael Ian Black), Vanessa's Wiccan sister Marjorie (Riki Lindhome) and the detectives assigned to look into the rising body count (Rob Huebel and Paul Scheer). Only the Vatican's elite exorcism team (Garant and Lennon) san save them -- or can they?(c) Millenium
News & Interviews for Hell Baby
Critic Reviews for Hell Baby
Audience Reviews for Hell Baby
Have you and your friends (or family) ever done anything impulsive? Maybe you guys decided to go on an impromptu road trip. I've done the impromptu road trip with the boys back when I was around 19 or something. The reasons for which this road trip took place are personal, so I won't be sharing that story. But, really, it could be anything that you do impulsive with a group of people. For example, almost every Adam Sandler movie feels like this. Like he just did it impulsively with the same group of morons he's worked with for 20 years now. They went up and took a vacation to some beautiful place and, in between their vacation, they made a shitty movie. When I say that that ends up describing this flick perfectly, please don't misunderstand me. This is better than every Happy Madison (Sandler's production company) has produced with the lone exception of Reign Over Me and that's the only one I can think of. I'm sure there's others, but they're not better by much. Look, I'll be straightforward with you, I really wanted to like this movie. I honestly did. The concept isn't exactly the most unique, this OBVIOUSLY isn't the first movie where a woman has been pregnant with the literal devil's spawn. I'm sure you can think of, at the very least, ONE other movie that fit this description. But I think the fact that it felt over a weekend with a script that was barely finished had a lot to play in why I felt that this movie could not be described as good. Hell, I don't think it can even be described as average. The thing is, I think this movie can certainly be described as having peaks and valleys. It's just that the valleys outnumber the peaks like 2-to-1. Off the top of my head I can think of just two scenes that legitimately made me laugh. The first involved a small appearance by Kumail Nanjiani, what a fucking surprise, this guy is hilarious. And the second is when the adults play hot potato, quite literally, with the a set of newborn twins (one good and the other the spawn of Satan). There's obviously other scenes that made chuckle, but they're not that numerous or memorable to begin with. I mean, this movie certainly has a great comedic cast. And you can see that they were clearly having a blast filming this movie. It seemed like it was a stress-free environment for these people to work in. Not saying it was stress-free, but that's just the vibe the film gave. It's obvious that a lot of freedom was given to the actors to just do whatever they wanted. Thomas Lennon and Robert Ben Garant (both wrote and directed this) also created the show Reno 911! and that show was mostly improvised using a broad outline for where they wanted each episode to go. It's obvious that the same approach was used for this film, because it feels like they literally came up with nothing on their own prior to filming. Its scattershot nature is readily apparent and this, quite frankly, feels more like a series of skits barely held together by a narrative. This is obviously meant to be a very silly horror comedy. Supremely silly, I would say. The movie is inherently easier to get through if you realize that and I realized that when I saw the trailer. I didn't come in with any expectations that this would be any great shakes, but I hoped it would be a fun time for however long it lasted. Apparently, even those 'expectations' were too high. It's probable that I am being too harsh on this movie, since I legitimately wasn't bothered by this at all. But, I have to be objective, and this just isn't what I would call a good movie. It's ok and you can watch it no problem, but I feel a lot of people will end up feeling the same way I did about this. Look, Thomas Lennon and Robert Ben Garant clearly have talent and they've displayed it many times in the past, both in front and behind the cameras, but this isn't as good as their comedic pedigree suggests it would have been. Not to mention the comedic pedigree of the cast too. There are certainly some very funny scenes here, I'll be the first to admit that, but there's just no consistency to be found here. Obviously going with a heavily improvised approach was not the best choice here. Don't know what else to say, this movie misses the mark by a decent margin. This isn't an offensively bad movie in the slightest, it's just a silly, but perfectly watchable, movie. I can't recommend it, but you might get something out of this if you go in with a different mindset than I did. There's nothing else to say, watch at your own risk.
Jesse Ortega
Super Reviewer
½
Funny in parts but totally all over the place, I wanted this to be better considering all the talent behind this. In the end it just never works and all the work is for nothing.
Brendan O'Connor
Super Reviewer
I'm afraid that this could have been fashioned by any six year old with a viewing record that includes most of the horror genre. Call it a bad version of Scary Movie..if Scary Movie were any good.
John Ballantine
Super Reviewer
Hell Baby Quotes
There are no approved quotes yet for this movie.