Hedwig and the Angry Inch
(2001)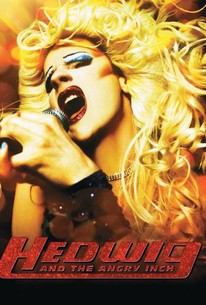 TOMATOMETER
AUDIENCE SCORE
Critic Consensus: Hedwig and the Angry Inch may very well be the next Rocky Horror midnight movie. It not only knows how to rock, but Hedwig's story has an emotional poignancy.
Hedwig and the Angry Inch Photos
Movie Info
Hedwig was born a boy named Hansel in Communist East Berlin who dreamed of finding his other half and becoming a big American rock star. When a handsome American GI promises love and liberation, it seems like a dream come true. But there's a catch-in order to marry and emigrate Hansel must "leave a little something behind." Hedwig survives a botched sex change operation that leaves her with an "angry inch" only to be stranded in a Kansas trailer park the very day the Berlin Wall comes down. Undeterred, Hedwig dons immaculate makeup and a Farrah Fawcett wig and forms a rock band-The Angry Inch. While supporting herself with babysitting gigs, she falls for a 16-year-old Jesus freak she renames Tommy Gnosis. Tommy steals her songs and becomes the rock star Hedwig always dreamed she'd be. Refusing to be defeated, she fiercely performs in crumbling theme restaurants seeking recognition, retribution, and reconciliation with her other half.
News & Interviews for Hedwig and the Angry Inch
Critic Reviews for Hedwig and the Angry Inch
Audience Reviews for Hedwig and the Angry Inch
After a botched sex change operation, glam/punk singer Hedwig tours seafood buffets across the USA on the tail of an ex-lover arena rock megastar who stole her hit songs. Fantastic music, hilarious one-liners and a lovable outsider protagonist make this the best gender bending punk musical cult comedy of all time. Homophobes beware, all others rejoice.
½
I have put off seeing this film for years because on paper...there is NOTHING that is appealing to me (aside from the fact that Andrea Martin has a role in it). Well I am here to tell you that I was more then pleasantly surprised by just how much I enjoyed it. Don't let the off putting images of John Cameron Mitchell painted up as Hedwig influence your opinion like it did mine. The character is actually quite endearing once you get to know him/her and on ocassion (usually as Hansel) kind of pretty in a non-traditional sort of way. While some of the Hansel/Hedwig flash-back stories are clever and creative and there are some real flashes of briliant writing in a few of his/her monologues...the main storyline is sort of vague and poorly thought out. Which is disapointing because with a better narrative storyline this could have been a pretty amazing piece of work. I won't lie to you, the real stars of this show are the songs. Music and lyrics are really impressive and the animated "montages" are delightful. And coming from a person who LOVES music but (mostly) dislikes "musicals"...that is high praise. It really is worth a watch. From a creative standpoint if nothing else.
A drag queen rock star escapes from East Berlin and pursues his ex-boyfriend who stole his songs. I found this film both bizarre and heartfelt. The subject matter lends itself to extremes in both filmmaking and performance, and writer/director/star John Cameron Mitchell commits so fully to these extremes that the film is often so hypnotic that one gets lost in the ride. By the same token, he doesn't deviate from a very human story about the search for love in the face of rejection and alienation. I did think, however, that some of the songs detracted from, rather than added to, the film's central story, with the main love song being the exception. Overall, if you have a choice of transvestite rock and roll films, and you're choosing between Hedwig and the Angry Inch and Breakfast on Pluto, choose Hedwig.
Jim Hunter
Super Reviewer
Hedwig and the Angry Inch Quotes
There are no approved quotes yet for this movie.