Heavy Metal in Baghdad
(2008)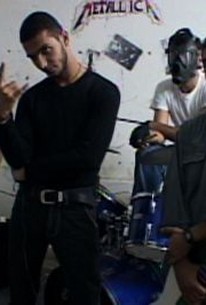 TOMATOMETER
AUDIENCE SCORE
Critic Consensus: Despite being a Gonzo-esque rockumentary following the fortunes of Iraq's one and only heavy metal band, Acrassicauda, Heavy Metal is actually a moving and impassioned account of the middle-east crisis.
Heavy Metal in Baghdad Photos
Movie Info
VICE Magazine co-founder Suroosh Alvi and VICE Films head Eddy Moretti embark on a gonzo journey to meet Iraq's only heavy metal band in a freewheeling documentary focusing on youth culture in war-torn Iraq. In the summer of 2005, shortly after Saddam Hussein's brutal rule came to an end, Iraqi heavy metal group Acrassicauda (named after an especially venomous breed of black scorpion) teamed with VICE Magazine to stage a sold out rock concert. Over a year later, VICE co-founder Alvi and filmmaker Moretti travel back to the Middle Eastern country to find out how the war has affected the band. What they find upon arriving for their reunion with Acrassicauda is especially disturbing. These are the images that the network news refuses to run - the story of an entire generation who risk their lives simply by standing in the open, and who are driven from their homeland by bombs and machinegun fire. In order to even practice, the band would have to risk their lives by exposing themselves to both Iraqi snipers and suspicious coalition forces. Then again, after your studio has been bombed into the ground what's the point in rehearsing anyway? ~ Jason Buchanan, Rovi
Critic Reviews for Heavy Metal in Baghdad
Audience Reviews for Heavy Metal in Baghdad
The daily struggles these guys go through to conquer even the simplest of tasks is incomprehinsible.
rocko perkovich
Super Reviewer
½
Fantastic! This is one of the best documentaries I have ever seen. Heavy Metal in Baghdad tells the story of Acrassicauda, a metal band from Iraq, whose members are stuck in the middle of Baghdad and the Civil War that is ripping the country apart. Through all the danger, pain, and death these guys take there love of Metal, and use it to vent their frustrations about everything going on in their lives. The film offers a very personal, and gut-wrenching look into the plight of the Iraqi as their country has become, Hell on Earth, and even when they do escape Iraq. They are treated like lepers by the world, because they are Iraqi's. This is not only Metal in its purest form, but it is human existence in its purest form. Barely getting by, and unsure of their futures, a group of Iraqi's with a common interest. Try to survive in a world that makes it increasingly harder and harder to live their lives, how they want. YOU GOTTA SEE THIS MOVIE!!!
Jason Reneau
Super Reviewer
½
Acrassicauda means 'black scorpion' in latin. It's also the name of the only heavy metal band in Iraq. Needless to say, heavy metal is frowned upon by the fundamentalist authorities, who see their music as a form of Western propaganda. The journey of filmmakers finding this controversial band allows the audience a very unique point of view into the Iraq War. The film is about the effect of the war on the ordinary working people of Iraq. People like you and I who might want to play the music they like, and raise families. They might not be the most talented metal band in the world, but unlike some American musicians who like to boast about how they'd "die for metal", this is one band that looks everyone dead in the eye and means it, and for that, they immediately earn the respect of the entire metal community, not to mention casual viewers worldwide.
El Hombre Invisible
Super Reviewer
Heavy Metal in Baghdad Quotes
There are no approved quotes yet for this movie.