Heaven's Gate
(1980)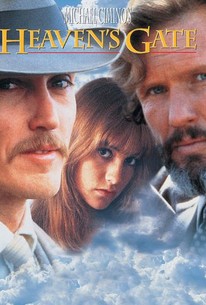 TOMATOMETER
AUDIENCE SCORE
Critic Consensus: Heaven's Gate contains too many ideas and striking spectacle to be a disaster, but this western buckles under the weight of its own sprawl.
Movie Info
A notorious artistic and financial failure, Michael Cimino's Heaven's Gate was blamed for critically wounding the movie Western and definitively ushering out the 1970s Hollywood New Wave of young, brash, independent filmmakers. Taking a revisionist, post-Vietnam view of American imperialism, Cimino used the historical Johnson County War incident in Wyoming to create an impressionistic tapestry of Western conflict between poor immigrant settlers and rich cattle barons led by Canton (Sam Waterston) and his hired gun Nate Champion (Christopher Walken). Attempting to mediate is idealistic Harvard graduate and county marshal Averill (Kris Kristofferson), who is both Nate's friend and his romantic rival for the affections of Ella Watson (Isabelle Huppert). However, war erupts, at great cost to all involved. Flush from his success with the Oscar-winning The Deer Hunter (1978), Cimino demanded creative control, and his insistence on shooting on location and building historically accurate sets and props multiplied the film's original budget to a then-astronomical $36 million. When United Artists premiered the original 219-minute version (sight unseen), they discovered that Cimino had produced an elliptical epic, compounding the box-office difficulties of making a Western without any major stars. Critics howled about Cimino's incomprehensible self-indulgence, and United Artists pulled the film after several days. Re-released five months later, 70 minutes shorter, Heaven's Gate bombed again, and MGM bought out the financially crippled United Artists. The ailing Western genre virtually vanished during the 1980s, Cimino's career never recovered, and Hollywood studios had had enough of bankrolling financially risky ventures by "auteur" directors. Heaven's Gate's reputation recovered somewhat after its video release, as it garnered praise from some viewers for such visually remarkable sequences as the Harvard dance and the final battle, as well as for David Mansfield's haunting score. Steven Bach's book Final Cut provides a full production history. ~ Lucia Bozzola, Rovi
Critic Reviews for Heaven's Gate
Audience Reviews for Heaven's Gate
worth watching but much of the criticism is well founded imo. every scene goes on too long. period detail is exquisite and it's one of the most beautiful films i've seen but everything here is just too big. the story needed more focus. maybe a great two hour film in here somewhere
Stella Dallas
Super Reviewer
So, I'd finally decided to watch this all the way through after years of putting it off. Is it a bad film? Well...kinda. It's also a case of reputation preceeding the actual film. This isn't one of those thin, blown-out silly Kevin Costner productions. The acting wasn't bad, either. Sam Waterston, Jeff Bridges, Brad Dourif and Mickey Rourke are good in small roles. It's nice to see Walken play a complex character, something sorely lacking from his career, as of late. The lush cinematography is also top notch. What the film does suffer from is too much ambition, poor pacing, a wandering narrative that's not necessarily difficult to follow, but is tedious. Those scenes, such as the opening graduation, not only droned on at a length unnecessary to make their points, but the director had spent millions of dollars on elements which were irrelevant. I understand a director wanting to take his time to tell a story and immerse the audience into his world, but fucking come on already. There have always been harsh criticisms towards this movie, many by those who may have never seen it. I will say that some of those harsh criticisms are valid.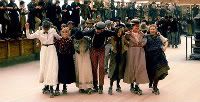 El Hombre Invisible
Super Reviewer
Aside from some questionable looking treatment of animals and a sad lead actress choice, I can't quite understand why this film did not do better. It's gangbusters! I've seen way shorter films that seemed a hell of a lot longer, I kid you not.
Lanning : )
Super Reviewer
Heaven's Gate Quotes
There are no approved quotes yet for this movie.