Heaven
(1999)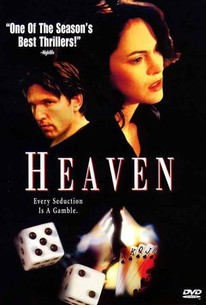 Movie Info
Scott Reynolds directed this New Zealand thriller about a transsexual stripper. Architect Robert Marling (Martin Donovan) has mounting problems that include drinking, gambling, and alimony payments to his ex, Jennifer (Joanna Going), who's attempting to gain custody of their son. Redesigning a strip club for his psycho friend Stanner (Richard Schiff), Marling meets transsexual dancer Heaven (Danny Edwards), who has precognitive visions. Heaven's therapist, Dr. Melrose (Patrick Malahide), employs his patient's predictions to boost his own bank account. With all professional ethics evaporating, the evil Melrose sleeps with Jennifer while counseling Marling. Hallucinatory visions prompt Heaven to warn Marling of even more hellish events awaiting in his future. Shown at the 1998 Montreal World Film Festival and the 1998 Toronto Film Festival.
Critic Reviews for Heaven
All Critics (5) | Fresh (3) | Rotten (2)
All there is to the film is the hook; take it away, and what's left is a rather uninvolving tale.
...one of the more interesting and visually striking movies to come around in a while.
Audience Reviews for Heaven
When you take justice into your own hands, you have to live with the consequences!
Heaven Quotes
There are no approved quotes yet for this movie.