Heartbreak Ridge
(1986)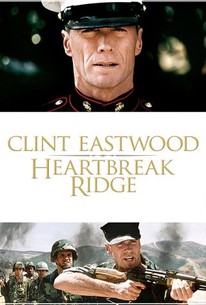 Movie Info
Having spent much of his directorial career emulating Don Siegel and John Ford, Clint Eastwood borrows a page from the catalogue of Sam Fuller in Heartbreak Ridge. Eastwood casts himself as an old-fashioned Marine Corps sergeant who is out of step with the new-fashioned military. He returns to his old outfit as a gunnery sergeant, where he runs afoul of 1980s-style superior officers to whom the words "Gung Ho" are foolish anachronisms. But through his tough tutelage, Eastwood's lackadaisical platoon is whipped into a first-rate fighting machine, favoring teamwork over such New Age gobbledygook as "self-fulfillment." Eastwood's men prove their mettle during the invasion of Grenada. ~ Hal Erickson, Rovi
Critic Reviews for Heartbreak Ridge
Audience Reviews for Heartbreak Ridge
½
Maybe because it's dated now, but I didn't think it was Eastwood's best performance.
Christian C
Super Reviewer
Being a lifelong Eastwood fan, I re-visited Heartbreak Ridge after reading that it was produced after Louis Gossett Jr. won an Oscar for An Officer and a Gentleman. In my opinion, Eastwood was at least equal to Gossett's performance, but Heartbreak Ridge garnered no Oscar attention. I wish Eastwood had made more movies like this one, something like John Wayne in Sands of Iwo Jima as a role model. Like "Iwo Jima," this is a sort-of basic training to battlefield story but with more of a back story to its protagonist. Its not a political film nor a comedy, although there many comedic moments. Mario Van Peebles adds several of them, and his pairing with Eastwood, while odd at first, works well in an opposites though strangely alike sort of way. The love story subplot is awkward, more humorous than poignant. This is Clint Eastwood, at his gravel-voiced toughest, getting relationship advice from women's magazines. I enjoyed Marsha Mason as Aggie, Gunny Highway's ex-wife and new flame. (Figure that out) Eastwood also displays his soft hearted side with compassion toward one of his troops with family issues. So, Gunny Highway , trying to re-claim his lost youth and saddled with military politics and ego cashes, succeeds in making "life takers and heart breakers" out of a bunch of cast-off misfits and reclaims American military superiority. Is Heartbreak Ridge clichéd? Absolutely, yes. Does that matter? No, it works great as an action/war movie and maybe even better as a hilarious commentary on the generation gap. Still looking for a reason to watch: I just like hearing the word "clusterfuck" as well.
Clintus Maximus
Super Reviewer
Almost like the counterpart to A Few Good Men for some reason. This showcases the hard as nails Clint Eastwood as a drill sergeant who will do anything to whip his platoon into shape. He goes out of his way to trick and create schemes in order to hurt/help his men, making for a really classic bit of Clint. I think it's interesting to have a movie that's not really in the war genre, but not solely about training. It's more of a multi-layered drama that doesn't get enough credit. People either get bored with the lack of killing or lack of stereotypical Clint Eastwood catch phrases, but given the chance, it's a really cool movie.
Conner Rainwater
Super Reviewer
Heartbreak Ridge Quotes
There are no approved quotes yet for this movie.