He Said, She Said
(1991)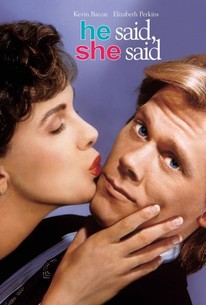 Movie Info
Real-life sweethearts and film directors Ken Kwapis and Marisa Silver co-directed this throwback to the silver-screen romantic comedies of the 1940s, examining the different ways men and women view reality. Kwapis takes the male character's point of view, recalling a burgeoning relationship. Silver then takes a crack at the same story, recalling the same events from the woman character's point of view. Unfortunately, both perspectives are not that much different. Kevin Bacon and Elizabeth Perkins star as Dan Hanson and Lorie Bryer, two reporters from the Baltimore Sun who are assigned to share space on the editorial page debating opposing viewpoints. Dan is the conservative philanderer. Lorie is the sensitive liberal. The new column becomes a big hit -- a shop owner exclaims, "Hey, it's the people who argue!" Although originally antagonists, Dan and Lorie become lovers. As their relationship grows, so does their popularity, and they end up hosting a popular television program. But Lorie wants commitment, and Dan doesn't. Frustrated, Lorie shies a coffee cup off Dan's noggin live on the air. Their ratings soar. And then the whole routine is played out again.
Critic Reviews for He Said, She Said
Audience Reviews for He Said, She Said
½
It's okay to watch once, but very dated to look at. It screams early 90's (in a bad way), actually reminds me of my first job in an office back then, looking at the frumpy clothes - that's got to bring anyone down! Acting is okay. They are convincing but both kind of whiny. The first half is told from his perspective, the second from hers. I guess it's a different twist, but not enough to make it truly interesting. It's inoffensive and watchable, but only just.
Nicki Marie
Super Reviewer
He Said, She Said Quotes
There are no approved quotes yet for this movie.