Häxan (Häxan: Witchcraft Through the Ages) (The Witches)
(1929)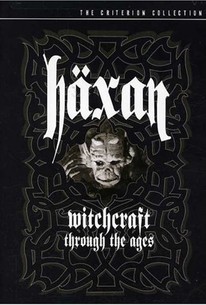 Häxan (Häxan: Witchcraft Through the Ages) (The Witches) Photos
Movie Info
Danish filmmaker Benjamin Christensen's obsession with bizarre lighting effects reached its apotheosis with his 1922 masterpiece Häxan. Beginning in a deceptively sedate fashion with a series of woodcuts and engravings (a technique later adopted by RKO producer Val Lewton), the film then shifts into gear with a progression of dramatic vignettes, illustrating the awesome power of witchcraft in the Middle Ages. So powerful are some of these images that even some modern viewers will avert their eyes from the screen. Though obviously a work of pure imagination, the film occasionally takes on the dimensions of a documentary, a byproduct of the extensive research done by Christensen before embarking on the project (incidentally, the director himself can be seen in the film in a dual role as Satan and the Doctor). Häxan marked a parting of the ways for Christensen and the Danish film industry; thereafter, he confined his activities to the German cinema, before answering Hollywood's call in 1928. A separate version of this film exists, with a shorter running time, retitled Witchcraft Through the Ages and released in 1968. It features narration by the legendary Beat writer William S. Burroughs (Naked Lunch) and a score by Jean-Luc Ponty. ~ Hal Erickson, Rovi
News & Interviews for Häxan (Häxan: Witchcraft Through the Ages) (The Witches)
Critic Reviews for Häxan (Häxan: Witchcraft Through the Ages) (The Witches)
Audience Reviews for Häxan (Häxan: Witchcraft Through the Ages) (The Witches)
vieras esine
Super Reviewer
½
Writer and director Benjamin Christensen paints a meticulous picture of witchcraft through the ages in his film (titled fittingly enough), "Haxan: Witchcraft Through the Ages". Part documentary-style narration, part dramatic "passion play", Haxan toys with the idea of a real satan (played by Christensen himself) tempting virtuous people away from their holy christian lifestyles. Witchcraft is seen as the power one acquires from consorting with the devil, and various abilities, such as flying and casting spells are gained from worshipping the dark lord (and 'literally' kissing his ass). Eerie, sometimes shocking, sometimes horrific, Christensen uses light and shadow to his advantage, creating a dark fantasy world made real through the eyes of superstitious and backwards medieval folk. And really, far from glorifying belief in the supernatural, Haxan tells with great sadness the tale of mankinds brutality and mindless terror of the unknown. It's more a warning tale than anything. When we put our faith in supernatural superstitions, we sacrifice scientific knowledge and the analytical process, cutting out anything we've learned from the past. Those who put faith above all else will deny reality if it conflicts with their beliefs. Mankind can revert to the stone age at any time. In order to move forward as a species we must discern with an unflinching eye what is reality and what is fact. To do otherwise is to doom ourselves to the dark ages. Haxan is positively haunting in the spell it weaves.
Devon Bott
Super Reviewer
½
One of the first horror films, this silent masterpiece still has the ability to shock and entertain today's audience.
Graham Jones
Super Reviewer
Häxan (Häxan: Witchcraft Through the Ages) (The Witches) Quotes
There are no approved quotes yet for this movie.