Haunted Honeymoon
(1986)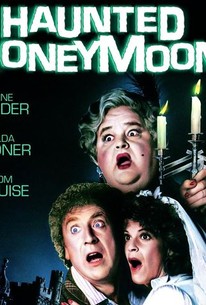 Movie Info
Gene Wilder directed and wrote (along with Terence Marsh) this mild farce which is a pale reminder of Wilder's glory days in Mel Brooks' Young Frankenstein. Wilder plays ham radio actor Larry Abbot, who takes his fiancee Vickie Pearle (Gilda Radner) out to meet his relations on a gloomy country estate before they are married. The creepy clan is lorded over by the bizarre Aunt Kate (Dom DeLuise), who keeps babbling about a local rampaging werewolf. As Larry and Vickie try to spend a quiet weekend in the mansion, they are assaulted with all manners of spooky goings-on -- the kind of routines that were already growing whiskers when Abbott and Costello first dusted them off over fifty years ago.
Critic Reviews for Haunted Honeymoon
Audience Reviews for Haunted Honeymoon
½
Again Wilder hopes to resurrect the oomph of Young Frankenstein with the intention of schlepping the creepy horror genres of the late 1930's, early 40's, and again he fails. Is there even a smile in this one? Well yes there is, but its unintentional, and its that Wilder's love for Gilda Radner is evident. Otherwise it hurts to watch. A film to work on your patience while watching.
Kevin M. Williams
Super Reviewer
Funny and creepy, and all around fun. Haunted Honeymoon is a winner!
Kyle Fowler
Super Reviewer
½
Bet not many have seen this, Wilder genius here, really spooky 'Addams' style fun with good laughs, a kinda 'Hammer Horror' old fashioned style horror flick that isn't scary atall lol I just love the look of these films, the big mansions, sweeping staircases, flowing curtains, cobwebs etc.. Charming comedy with a lovely cast that could almost be a Brooks spoof.
Phil Hubbs
Super Reviewer
Haunted Honeymoon Quotes
There are no approved quotes yet for this movie.