Hate Crime
(2005)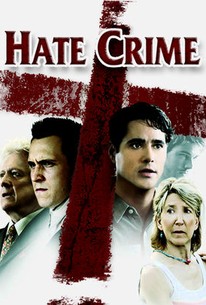 Movie Info
Robbie Levinson and Trey McCoy, a gay couple in their late 20s, gain an unwanted conflict when Chris Boyd, the son of a fundamentalist preacher, moves in next door. Trey is brutally attacked, lapses into a coma and later dies. Robbie and Trey's parents, Barbara and Jim, must deal not only with the devastation of Trey's death, but also with police bureaucracy. After Robbie himself becomes the prime suspect, he and Barbara, both disillusioned with the legal system, decide to take justice into their own hands, attempting to carry out a plan of revenge.
Critic Reviews for Hate Crime
Audience Reviews for Hate Crime
One of the most hyped film was it had totally unconvincing story and one of the worst acting I've seen, if not for Brian J. Smith, I wouldn't have watched this.
Sylvester Kuo
Super Reviewer
The movie tries to make a point and send out a message. While the intentions might have been good, what I got to see in the form of a thriller wasn't quite so. Its predictability and preachy parts didn't bother me as much as its story so filled with loopholes. And if the director has the same excuse that the Sergeant makes towards the end, I'd have a hard time pardoning him. Many of the significant twists and turns simply don't add up to. I'd have readily ignored one or two, but here we've got enough at hand to make the movie lame. Tolerable, but not recommended from my end.
familiar stranger
Super Reviewer
Hate Crime Quotes
There are no approved quotes yet for this movie.