Hard Core Logo
(1998)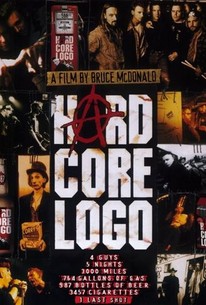 Movie Info
Following four characters who struggle to reconcile their glorious past with the hangover realities of the present, it is more than the story of a band - it is a film about lost dreams, the irresistible lure of the open road, and the memories of youth that fade in the rearview mirror.
Critic Reviews for Hard Core Logo
Audience Reviews for Hard Core Logo
Decent Canadian indie flick with a big cult following.
I'm supposed to like this film aren't I? Everyone loves Hard Core Logo as Canada's great Spinal Tap. There's only one problem. Spinal Tap is far superior and my readers know how much I have a thing against band films.
John Ballantine
Super Reviewer
½
The advertising for Hard Core Logo bills it as ?edgier and darker than Spinal Tap,? and while I wouldn?t call this overly edgy it was wise of the film to own up to its obvious debt to Rob Reiner?s This is Spinal Tap. Comparison?s to that film are inevitable given that both projects are mockumentaries about dysfunctional rock bands and Spinal Tap is blatantly referenced in at least two different places in the film, this goes a long way in allowing the film to get that comparison out of the way and move on. Unlike the ill-fated band in Spinal Tap, the hardcore punk band at the center of this film isn?t particularly unsuccessful, their music is pretty decent by punk standards and they were reportedly pretty popular in their day. The difference is that these guys aren?t lovable losers like Spinal Tap is, they?re a bunch of jerks who pretty much have their inevitable failure coming to them, that?s the film?s fatal flaw; these people become really tiresome as the film goes on. I didn?t find the movie to be very funny at all, I?m not sure it was even trying to be. This wasn?t a problem at first but it began to be pretty clear that this material didn?t really have the weight or interest to really hold its own as any sort of drama, and once my interest in the characters went downhill the movie didn?t really have a lot to fall back on. Visually, I thought this was pretty decent. The filmmakers never go out of their way to over-emphasize the faux-documentary look. They don?t gratuitously shake the camera and they don?t use crappy film stock, consequently it looks a lot more like a real doc than many similar projects. The acting is also pretty good, this is certainly how I?d expect a dysfunctional punk band to look and sound. My review sound?s a little more negative than my real outlook, really the movie works pretty well for at least half of its 90 minute running time and I like the last couple scenes a lot as well (great last shot). There are some amusing scenes in here, but I think the whole thing might have been better suited for a short subject than a feature.
Hard Core Logo Quotes
There are no approved quotes yet for this movie.