Hara-Kiri: Death of a Samurai
(2012)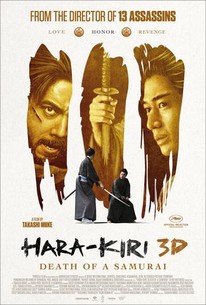 TOMATOMETER
AUDIENCE SCORE
Critic Consensus: Hara-Kiri: Death of a Samurai adds an atypically restrained entry to the Takashi Miike filmography that loses little impact in favoring human drama over action.
Hara-Kiri: Death of a Samurai Photos
Movie Info
From visionary auteur Takashi Miike comes the story of a mysterious samurai who arrives at the doorstep of his feudal lord, requesting an honorable death by ritual suicide in his courtyard. The lord threatens him with the brutal tale of Motome, a desperate young ronin who made a similar request with ulterior motives, only to meet a grisly end. Undaunted, the samurai begins to tell a story of his own, with an ending no one could see coming. With stunning cinematography and gripping performances, Hara-Kiri: Death of a Samurai is a thrilling exploration of revenge, honor, and individuality in the face of oppressive power. -- (C) Tribeca Film
News & Interviews for Hara-Kiri: Death of a Samurai
Critic Reviews for Hara-Kiri: Death of a Samurai
Audience Reviews for Hara-Kiri: Death of a Samurai
½
Now, this was a totally pointless film. It adds nothing to the great original, it only downgrades every aspect of it. The incompetend actors couldn't possibly compare with the standard Tatsuya Nakadai and the others set 40 years before. As a result, the stoicism, melancholy and magnificence that Nakadai, with his characteristically deep voice, brought to the original role of Hanshiro is totally lost in a superficial performance by Ichikawa. The other actors fall short too of their tasks and especially the actor playing the young son of Hanshiro and the actors playing the vicious samurais of the li house. They are all too young and look more like they are bullies in a school than experienced samurais. The music is ridiculous. Soft piano accompanies most of the melodramatic scenes of Hanshiro's flashback. Now, of all the nonsense to do in a period film with samurai this takes the crown! I won't mention the ludicrously emphasised disgusting sound effects in the harakiri scene. The 3D gives nothing essential to the film; it only distracts with 'pretty' but unneeded weather effects that pretend to give some symbolic significance to the drama. The final showdown at the finale of the original is probably one of the most breathtaking fighting scenes in the history of cinema (it was exhilerating, suberbly acted, choeographed with precision, looked totally realistic and most of all, it worked like katharsis), but this remake totally ruins the actual significance of the scene by emphasizing the melodrama of the character (the 'bad-ass' glances of the main actor don't help either). The film overall gives the feeling of a superficial, light piece to be consumed by the Tarantino-bred younger generations and lacks the focus and the purity of Masaki Kobayashi's masterpiece. The cinematography is very good though with nice colours and subtle camera movements. The overall rhythm suffers too with overlong melodramatic moments and overlong coda after the death of the hero.
George Matalliotakis
Super Reviewer
½
This, surprisingly, Miike's most emotionally driven film that I've seen. There are some parts of the film that are definitely very melodramatic, though it's really just one scene, but the majority of the film is an effectively told drama. The story is simple to follow but it can be a very powerful story indeed. There's the one scene, you'll know the one, with Motome that was, quite frankly, disturbing. And the great thing about it is that they get the desired effect merely with facial expressions and sound effects. It isn't, visually, very graphic but the more horrific stuff in the scene is left to the imagination. And this is something that Miike hasn't done a lot of. Usually he's pretty in your face when it's time to be graphic, but it's nice to see him hold back and let the actor and the sound effects tell the entire story. The story isn't perfect, but it is a good story about how far a man will go, this case being Motome, in order to make sure his family is safe and taken care of. There's also Hanshiro's story of a man who has nothing to lose, but one who's also bent on getting a small measure of revenge on the people who cost him everything. Again, some of it is melodramatic with sappy music playing over the sadder scenes. Personally, I've never been a big fan of the sappy music during the dramatic moments. It just comes across to me like you don't trust your actors enough to sell the emotion of the moment, so you choose to manipulate people with a sad score. There's only one scene where I that happens in this movie, but it's still there. It's more distracting that complementary. I still really liked this film, the story isn't flawless, but it's another notch on the belt of Takashi Miike. The guy keeps getting better and is continually maturing as a filmmaker. So while this wouldn't be one of his most memorable films, it's another important step in his evolution and growth. This and 13 Samurais will help him be considered a respected filmmaker rather than a guy who makes weird films, even if I love his weirder films. This is a solid recommendation.
Jesse Ortega
Super Reviewer
I'm familiar with a few films from controversial Japanese film maker Takashi Miike. Last year I saw 13 Assassins in wich he was able to make the best jidaigeki/chanbara film in years. He's now taking on another Samurai classic, one I was very skeptical of since I've seen the original its based on, but had to judge it myself. Then again someone like me would question; What's the purpose of remaking a timeless masterpiece of Japanese cinema? Hara-kiri: Death of Samurai isn't all bad, however it was shot in 3D which was appealing. The film has a lot in common with the original however its more convential and relies on direct dramatic sequences. The fashbacks are a bit dull and it drags a bit. I like the cinematography, and the actors show some worthy talent, but its just not Mesmerising or compelling as Masaki Kobayashi's original masterpiece. Some of you who haven't seen the original may enjoy this a little more if you haven't seen the original, its watchable on a level with the adaptation of a screenplay from a masterpiece retold. But on Miike terms its a let down compared to his better films.
Luke Eberhardt
Super Reviewer
Hara-Kiri: Death of a Samurai Quotes
There are no approved quotes yet for this movie.