Happy Death Day 2U
(2019)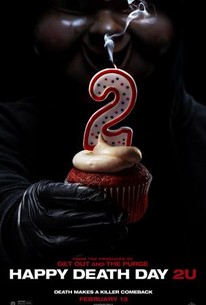 TOMATOMETER
AUDIENCE SCORE
Critic Consensus: A funnier follow-up with a sci-fi bent, Happy Death Day 2U isn't as fiendishly fresh as its predecessor, but fans of the original may still find this a sequel worth celebrating.
Happy Death Day 2U Videos
Happy Death Day 2U Photos
Movie Info
Jessica Rothe leads the returning cast of HAPPY DEATH DAY 2U, the follow-up to Blumhouse's (Split, Get Out, The Purge series) surprise 2017 smash hit of riveting, repeating twists and comic turns. This time, our hero Tree Gelbman (Rothe) discovers that dying over and over was surprisingly easier than the dangers that lie ahead. Jason Blum once again produces and Christopher Landon returns to write and direct this next chapter, while Happy Death Day executive producers Angela Mancuso and John Baldecchi are newly joined by EP Samson Mucke (Scouts Guide to the Zombie Apocalypse).
News & Interviews for Happy Death Day 2U
Critic Reviews for Happy Death Day 2U
Audience Reviews for Happy Death Day 2U
Films that embrace the cheesiness they're clearly full of impresses me quite a bit when they do it well. Happy Death Day 2U is a follow-up to the highly enjoyable Happy Death Day, but if you haven't seen that film or weren't a fan of it, to begin with, I can't recommend this movie to you. Although this movie won't go down as even one of the more solid films of 2019, it works as a great follow-up in terms of storytelling. If you've seen Happy Death Day and are intrigued enough to give this one a watch, here's why you probably won't be disappointed that you did. Picking up seconds after the first film concludes, we follow a secondary character from the first film, as he discovers that he's living the same day over and over again, always dying at the end. As we learn why that is, the main character in Tree (Jessica Rothe) once again has this passed on to her. Having to discover who her murderer might be and if she may even want to stay in the dimension she's trapped in (yes, this film dives into multiple dimensions), the story progresses very well off the first. I wasn't expecting the sci-fi turn that this story presented, but it worked very well within the context of the movie. Where this film falls short of the first, is the fact that the repetitive nature of this story begins to wear thin. For the first film, it was the first time this day had been repeated over and over again, with new things happening each time, which kept me interested. While the additions to this story felt fresh this time around, the fact that the sequel repeats the same day that was repeated throughout the first film, kind of lost the flare in my opinion. The beginning and end of this film are very enjoyable aspects, but the second act almost completely lost me, due to the repetitive nature. As I mentioned, the premise of these films is absolutely ridiculous and certain aspects of these films are downright cringe-worthy, but you can tell the filmmakers are aware of that. Playing pop songs as the day continuously resets itself is a blast to watch, but the true reason to sit through both films is the build-up to Tree's past. Being stuck in an alternate dimension gives her closure to aspects of her life that felt brushed over in the first film, which made this story feel like one long movie when watched back to back. There is care put into this story, even though it's incredibly dumb at times. In the end, Happy Death Day 2U is a fun continuation to the story that was set up in the first film, but it ultimately becomes very repetitive. I absolutely can't get myself to recommend this movie on its own, but as a companion piece to Happy Death Day, it works very well. As a fan of the first film, I would recommend watching both of these movies. Although annoying at times and dumb in its logic, this is a fun sequel worth visiting at least once.
½
On one hand I can admire the "who gives a damn" ethic behind the sequel to Happy Death Day, a fun time loop of slasher cinema tropes. The original had some darkly comic edges but mostly played its premise straight in the realm of horror. The sequel doesn't play anything straight. It's completely bonkers and looking to turn anything into a joke. This provides a charming carefree sense of bravado; however, if you were a fan of the first film, it also might rub you the wrong way and seem overly flippant and messy. We get a science fiction explanation involving parallel universes as to why the time loops are happening, and now our heroine Tree (Jessica Rothe) is stuck in a parallel version of her looped day. The film sidesteps a Back to the Future 2 sense of repetition but doesn't stray too far from the outlines of the original Happy Death Day, just with a few new surprises. The big question is whether Tree will return to her home dimension or stay as a tourist in this new dimension, a world where her mother is still alive but her boyfriend is with somebody else. As should be obvious, this hard choice isn't really that hard considering that she could always still get with the would-be boyfriend again. There are some comedic sequences that borderline on farcical sitcom, like a montage of suicide set to Paramore's "Hard Times" and a woman faking being a bumbling blind student, and too many of the plot complications feel artificial and random, especially the delays to return to the home dimension. The world can often feel constrained as well, like this bustling campus only comprises the same eight faces (and their bushy eyebrows). My biggest gripe is that the first act is completely superfluous and it presented a more compelling mystery, a student from a future trying to kill their past self to avert a crisis. That's way more interesting than another dopey killer in the baby mask. Still, the movie never pretends to be anything other than a fun couple of hours with sprightly visual comedy and a terrific anchor in Rothe, a comic stalwart. Happy Death Day 2U gets more ridiculous as it goes and I hope it just keeps digging further, never finding its bottom. Nate's Grade: B-
Nate Zoebl
Super Reviewer
This sequel was interesting and a fun misdirection of the first, but the overall twisty narrative wasn't as fun as expected. The mid credits stinger felt like Independence Day 2's ending and I'm not sure if number 3 will be worth the investment. The film captures the essence of the first film, and the death homages are the best part, much like Groundhog Day. The slasher angle is dialled down and the genre swap is interesting, but robs the film from being truly different. I feel this landed in the same quality as the first, not a horrible sequel or a home run by any means. It is a fun franchise, but lacking high quality to maintain cult status. Time will tell if this is deserving of another sequel. 17/02/2019
Brendan O'Connor
Super Reviewer
Happy Death Day 2U Quotes
There are no approved quotes yet for this movie.