Happy Accidents
(2001)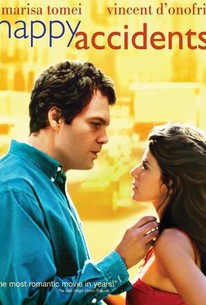 TOMATOMETER
AUDIENCE SCORE
Critic Consensus: Happy Accidents has enough quirkiness and charm to rise above the more formulaic entries in the romantic comedy genre.
Movie Info
Is Ruby Weaver's Mr. Right really an emissary from the year 2,470, or is he just a complete loon ball? This question is at the heart of Brad Anderson's whimsical romantic comedy. The story opens with Ruby (Marisa Tomei) lamenting over her boyfriend Sam (Vincent D'Onofrio) to her shrink (Holland Taylor). In a series of flashbacks, the film quickly sketches Ruby as a neurotic with an unhappy track record concerning men and Sam as an oddball who is afraid of small dogs and has a barcode tattooed to his arm. But he's nuts over Ruby, and at least initially, that is enough for her. Slowly, Sam begins to reveal his "past." He tells her that he is from the Dubuque of the future and that he hails from a rare "anachronistic" family who believe that reproduction should occur the old-fashioned, fun way as opposed to the more popular cloning method. At first, Ruby is amused, until she realizes that he's not kidding. After a series of arguments, he agrees to visit Ruby's analyst, which yields unexpected results. This film premiered at the 2000 Sundance Film Festival.
Critic Reviews for Happy Accidents
Audience Reviews for Happy Accidents
This was recently on Entertainment Weekly's 50 Best Movies You've Never Seen list, and it certainly is awesome despite its kooky concept of whether Ruby's new lover is a potentially dangerous paranoid-delusional or if he's actually a time traveler from 2470. What I really enjoyed is that I couldn't figure it out either. Sam's backstory and mission are convincingly explained away by some futuristic developments, but everything the shrink says about temporal lobe epilepsy seems valid as well. Vincent D'Onofrio is just sweet enough and just lazy-faced-crazy enough to lend a slight disturbance to this otherwise light romance.
Alice Shen
Super Reviewer
This was a pretty good movie. Solid performances from the cast and the hint of mystery make the movie intriguing to watch, if anything else. It's not mind-blowing by any means and it lacks something, and I'm not sure what it would've been, that might have made the movie better. But, again, it's a solid movie. Nothing more, nothing less.
Jesse Ortega
Super Reviewer
½
It Like like K-PAX, but with Tomei and D'Onofrio relationship as the centerpiece. Quirky and Romantic, it really doesn't reach mind bending for me. The tension of the story is held squarely "Is D'Onofrio" sane or a time traveler. There is a quirky chemestry that works, D'Onofrio is smitten with Tormei and Tormei is in love with his dedication to her (after a life full of failed romances).
Bill Cavros
Super Reviewer
Happy Accidents Quotes
There are no approved quotes yet for this movie.