Handsome: A Netflix Mystery Movie
(2017)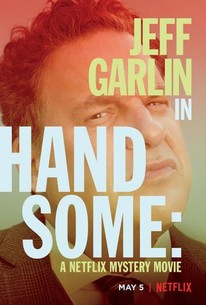 AUDIENCE SCORE
Critic Consensus: No consensus yet.
Handsome: A Netflix Mystery Movie Videos
Handsome: A Netflix Mystery Movie Photos
Movie Info
In Handsome: A Netflix Mystery Movie, Jeff Garlin ("Curb Your Enthusiasm," "The Goldbergs") stars as Gene Handsome, an LA homicide detective who tries to make sense of his life as he solves crime. Handsome's knack for solving mysteries is matched only by his inability to make sense of his own problems. The film, which is also written and directed by Garlin and co-written by Andrea Seigel ("Laggies"), is a lo-fi, Columbo-style mystery comedy. It co-stars Natasha Lyonne, Amy Sedaris, Christine Woods, Steven Weber, Eddie Pepitone and Leah Remini.
Critic Reviews for Handsome: A Netflix Mystery Movie
Audience Reviews for Handsome: A Netflix Mystery Movie
This was a very odd film that at times was quirky and very funny. The inconsistent tone never lets the film take off and it's a shame. The film is beautifully shot by Garland and the cast does try to give its most. My only issues were the film having a serious tone while the filmmakers did slow quirky character beats to add humour. I liked it but can't say this will appeal to everyone, I actually hope Netflix commissions a sequel as this was a guilty pleasure film. 06/06/2017.
Brendan Nicholls
Super Reviewer
½
You know, in high school, I was actually considering maybe studying to be a forensic pathologist in college. I've always been fascinated by death. Perhaps that's a wrong way to phrase it, but I found that there's so much you can learn about human anatomy and maybe find a way to help and give some closure to families who may not have known how their loved ones passed. I'm also fairly certain, or at least I was back then, that I would have no problem working on a deceased body. I don't really know why I started out with this, since it really has no relevance to this movie. Well, I mean, there's a character who's a forensic pathologist, but I don't think his appearances, while memorable, add to more than, maybe, 10% of the movie. And that percentage may even be too generous. Ah Netflix original movies, what a mixed bag you usually end up being. As much as I've enjoyed some of their films, like Small Crimes, The Little Prince and Macon Blair's feature debut (that has a really long title that I don't wanna type out), there's no denying that there's also been some movies that just fall flat. Spectral and every Adam Sandler film. I think it's about time Netflix was due for an excellent original movie. Though, if I am being honest, I have not yet seen Beasts of No Nation, which was Netflix's first original movie. The consensus seems to be that that is their best offering, though I've just never found my way to it. Anyway, on to this movie. Does this break that streak and offer an excellent experience? Eh, I can't really say that it did. I just don't know why, but there was something missing to this movie. There were parts of it that felt really empty and hollow. Which is kind of shame, because there's times where the film is really quite funny. Most of these scenes involve Natasha Lyonne who plays the most Natasha Lyonne role in her career and she is pretty damn great here. The film has characters that they could make more use out of and they just don't. And, for a movie that's barely 81 minutes long, not including credits, that's understandable I guess. The film is short and to the point, they don't really waste too much time on side characters or subplots. But back to a point I said earlier about the film feeling empty. What I mean by that is the fact that the movie is sort of concerned only on the big picture and, because of that, the aftermath of some of the big story-heavy scenes can just feel empty or that there's no real purpose to them other than to just connect the big story scenes together. Maybe that's just me, but that's how I felt. The film is competently written, at least from a narrative standpoint, even though there's nothing really special about the mystery. In fact, in one of the most perplexing moves I've seen any movie take in recent time, they just come right ahead and spoil the entire thing at the beginning. You see one of the actors in the film coming out of the pool and admit that the character they played in the movie was, in fact, the murderer in the film. I legitimately don't understand this. Maybe they were being subversive, but it just meant that the actual reveal at the end of the movie fell completely flat. They cut their nose to spite their face because they were just trying to be cute. Can't you play with the usual noir/detective tropes in the movie like, you know, most people do when they're trying to turn a genre on its head? I don't wanna say the mystery itself is really all that intriguing to begin with, but it's sure as shit less intriguing when you tell everyone who the killer is right from the start. The dialogue is solid enough and the casting is good all around. I just wish there was more contribution from the supporting characters outside of just appearing in a couple of scenes just for a few seconds or minutes in the case of Natasha Lyonne and some others. Not a bad film at all, it certainly tries to entertain you. But the mystery isn't intriguing, nor are you really all that invested in figuring out how and why the killer did this (because they tell you right out the gate who the culprit is. There's some funny moments and some very talented actors here for sure, but the film's script just lacks a certain something that would have pushed this to a higher level. I don't know what that something might be exactly, but it's just a movie that felt incomplete. Can't recommend it, though its short running time means that this won't overstay its welcome. Average film at best.
Jesse Ortega
Super Reviewer
Handsome: A Netflix Mystery Movie Quotes
There are no approved quotes yet for this movie.