Hamlet
(2009)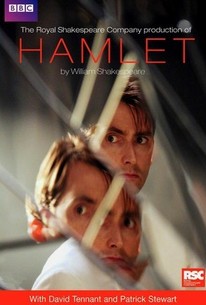 Movie Info
The Royal Shakespeare Company's modern spin on Shakepeare's classic, filmed especially for television.
Critic Reviews for Hamlet
Audience Reviews for Hamlet
The classic tale of tragedy comes to the screen in the best adaptation of Hamlet ever. Three hours of pure and utterly brilliant film-making, that's packed with great sets, thrilling craft and astonishing performances that will grab you and not let go for a moment. A complex, exciting and dynamic thriller that's laced with suspense and stunning craftsmanship. This film breathes new life into Shakespeare's greatest play. A true masterpiece of the stage and now film. An extremely powerful and unforgettable movie that's a thrill to watch. Patrick Stewart and David Tennant give superb, passionate and brilliant performances. Tennant gives a spectacular performance as Hamlet, a defining performance of a role for a generation. Tennant is wondefully breathtaking. Stewart is extraordinary, he gives such life and dedication to his complex role of Claudius. I love it, this movie is spellbinding from start to finish.
David Tennant's Hamlet is stolid and unaffected until he starts feigning madness. Tennant then creates a character that is interesting to watch, but I never felt like I was watching an intellectual wrestling with life's grand questions. There are also several scenes from Elsinore's security cameras, and I have no idea why these are in there or what the black and white photography does to enhance the director's take on this story. This is in addition to the characters seemingly random direct addresses to the camera. The set and the direct addresses make it seem as though we're not watching a film, but a play on film, much like the stationary cameras and action of the first films. Patrick Stewart, who was my real attraction to this version, was good as Claudius, but I don't see anything revolutionary in his portrayal. I also wonder about the director's decision to double-cast Stewart as both Claudius and the ghost. There didn't seem to be a point to this choice, and I'm still waiting for the version that uses Hamlet's disembodied voice as the ghost; such a decision contains a thematic statement unlike what I saw here. Overall, it's always good to watch Hamlet, with the exception of the Mel Gibson and Ethan Hawke versions, but I'm not overly impressed with this addition to the canon.
Jim Hunter
Super Reviewer
½
Okay, guys, you know the drill. But just a reminder... King Claudius(Patrick Stewart) tells his new stepson, Prince Hamlet(David Tennant), to lighten up because death comes to all, including his father, so enjoy life. This might seem a little harsh but Claudius has bigger things on his mind like Fortinbras rattling sabres in nearby Norway. To be honest, Hamlet is definitely taken aback at his mother Gertrude(Penny Downie) remarrying only a month after her husband's death. Well, he's not the only one concerned because Hamlet's friend Horatio(Peter De Jersey) summmons him to have a quick word with his father's ghost(Patrick Stewart) who says there was nothing at all natural in his death. This is a compelling version of "Hamlet" set in the modern day, almost totally indoors in a stately palace. So, while cameras are commonplace along with the occasional handgun, there is also a sense of decay in the royal household. Adding to the sense of disconnect is David Tennant's performance as perhaps the loosest Hamlet I have seen, with the character's brattiness contrasting well with such a disapproving father. Casting Patrick Stewart in the double role is a nice touch, which he handles with distinction.
Hamlet Quotes
There are no approved quotes yet for this movie.