Hamburger Hill
(1987)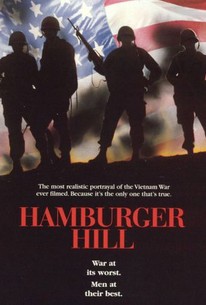 Movie Info
Though the anti-war sentiments of Hamburger Hill come through loud and clear, the film is squarely on the side of those courageous, much-maligned Americans who fought and died in Vietnam. Based on a true incident, the story takes place in 1969, as the 101st Airborne Division confronts the Vietcong in a bloody battle over Hill 937 (aka "Hamburger Hill") in the A Shau Valley. During the next ten days, both sides incur heavy losses, but the Cong refuse to surrender the hill. The ultimate American "victory" turns out to be a hollow one indeed. Scripted by Vietnam War vet Jim Carabatsos, Hamburger Hill not only underlines the futility of the war but also the pressures brought to bear upon the troops by an insensitive, often hostile media. By utilizing a cast of unknowns, director John Irvin deftly avoids the Hollywoodized slickness of such bigger-budgeted efforts as Apocalypse Now and The Deer Hunter.
Critic Reviews for Hamburger Hill
Audience Reviews for Hamburger Hill
Engaging War film set during the Vietnam War, Hamburger Hill chronicles the battle of the same name, and it's a film that I view almost as a forgotten Vietnam War film because, when people talk about great Vietnam War films, they mention Apocalypse Now, Platoon and Full Metal Jacket, but they don't mention this film. However for what it is, it's a standout feature, one that delivers some tense war carnage, and has some impressive performances from its cast. The action is riveting, and the performances compliment that perfectly. Hamburger Hill is a near perfect war picture that deserves to be rediscovered by fans of the genre. Hamburger Hill is an exciting picture and with terrific storytelling and wonderful performances from its cast, it should be ranked as one of the best of the Vietnam War films. The Strength of the film lies in its characters, and with that, it makes the film standout among other Vietnam War films. This is a very good picture, one that has enough character development to compliment the action. The script is well written as well, and it captures the chaos of war perfectly. Hamburger Hill has few flaws, and you can forget its weak aspects. I think this film is much underrated and it doesn't deserve the flack it has received. For what it is, it's an engaging war film that will entertain you from start to finish and it's one of those forgotten gems of war films because it has often been overshadowed by the most well known Vietnam War films. Hamburger Hill is a worthwhile picture to watch, one that is far better than what some critics have said, with a great cast, well written script, this is a picture that will surely satisfy the most demanding genre fan.
Vietnam has been done a lot better than this. Tha acting and writing for this movie was horrible and made for some pretty lousy characters. Platoon, Apocalypse Now, and Full Metal Jacket all had great acting and writing and that's why they stand high above this movie in effectiveness. Don Cheadle has a role in this movie and thank God for that. Although he has a smaller role than others in the movie, he clearly has the only good acting in this movie. It's realistic, but frankly I could care less because of the characters.
Melvin White
Super Reviewer
So awful. Goes on the list of bad war movies along with thin red line and tears of the sun. It tried so hard to have a moving message that I couldn't stand to watch. Ernie Hudson's presence is the only redeming part.
Curtis Lilly
Super Reviewer
Hamburger Hill Quotes
There are no approved quotes yet for this movie.