Guys and Balls
(2006)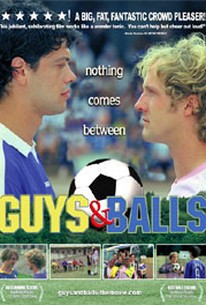 Movie Info
A battle for gay rights is fought on a small-time football field in this comedy drama from Germany. Ecki (Maximilian Brückner) is a talented soccer goalie who plays with a semi-pro team in a small German town, but he finds himself on the outs with his teammates when he fails to block a kick that costs the team the league championship. Ecki's relationship with the team goes from bad to worse when they discover he's gay, and they give him his walking papers. Furious, Ecki challenges his former team to a special match in which they'll face off against an all-gay team he'll assemble for the occasion. The homophobic team agrees to the match, but Ecki soon discovers finding ten capable gay footballers is no easy task, and making them into a competitive team is even harder. Making matters a bit easier for Ecki is his sister Susanne (Lisa Maria Potthoff), who introduces him to one of her co-workers, Sven (David Rott), a good-looking male nurse who can play soccer...and happens to find Ecki attractive. Männer Wie Wir (aka Guys and Balls) was written for the screen by Benedikt Gollhardt; it was his first theatrical film after establishing himself in television.
Critic Reviews for Guys and Balls
Audience Reviews for Guys and Balls
½
A cute and fun German language film that warms the heart but utterly misses any opportunity to develop (or even acknowledge!) the angst of exclusion, loneliness, uncertainty and injustice that motivate the primary aspects of this film. The sports action scenes are much better than most similar LGBT soccer films (e.g., Kickoff), but the team-building aspect of the story is not sufficiently developed. "Guys & Balls" is a pleasant film, but it is not very satisfying.
Christian C
Super Reviewer
½
Harmless yet incredibly fun German comedy about a gay soccer team. Great for a fun dvd night with friends, and a cute romance is at the center, of course.
Guys and Balls Quotes
There are no approved quotes yet for this movie.