Guarding Tess
(1994)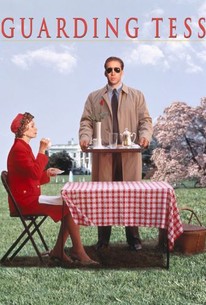 Movie Info
This comedy offers a combination of humor, drama, and thrills as it follows the tumultuous relationship between a young Secret Service agent assigned to protect the feisty widow of a U.S. president. Straight arrow agent Doug Chesnic has been guarding widow Tess Carlisle for three years. He is ecstatic when he is finally transferred to a new assignment. Just when it finally looks as if he will escape for good, he is reassigned to Tess' Ohio home. He breaks down and tells them it is the worst assignment there is. Unfortunately, he doesn't have a choice so he grudgingly returns to the high-handed ex-First Lady. He begins his stint with a clear discussion of his duties as presented in his service handbook which Tess blithely ignores. The mulish two engage in a minor power struggle, but when she is kidnapped, agent Chesnic winds up showing his true feelings for her.
Critic Reviews for Guarding Tess
Audience Reviews for Guarding Tess
½
The premise of the movie (differing opinions between a headstrong political widow and her secret service agents) is good. But the movie struggles in the details - especially in last scenes of the movie.
Guarding Tess is such a Funny movie. A old lady driving a young man Nuts. lol
The performances by the two leads are perfect and certain situations are clever. But the third act ends on a ridiculous serious note that killed the film as a whole. And the music is way over the top.
Steven Vincent Gee
Super Reviewer
Guarding Tess Quotes
There are no approved quotes yet for this movie.