Grumpy Old Men
(1993)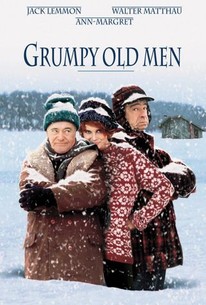 Movie Info
This cheerful holiday comedy, a surprise box office smash, featured a generous dollop of raunchy, crude humor and was greatly elevated by the presence of masterful performers in the lead roles. Jack Lemmon is John Gustafson, an ice-fishing Minnesota native who has been feuding with his neighbor and former best friend Max Goldman (Walter Matthau) for decades. The battle of wills between John and Max is characterized by crude name calling and harmless practical jokes. Max is unaware that John is having serious problems, chiefly that his daughter Melanie (Daryl Hannah) is experiencing marital woes and that his house is about to be confiscated by an officious IRS agent (Buck Henry). When it seems that John and Max may finally put aside their childish rivalry, however, sexy new neighbor Ariel (Ann-Margret) arrives and dates both men, pitting them against each other more fiercely than ever before. Despite their mutual loathing, the death of a friend, John's problems, and a budding romance between Max's son Jacob (Kevin Pollak) and Melanie may force the two old friends to reconcile. ~ Karl Williams, Rovi
Critic Reviews for Grumpy Old Men
Audience Reviews for Grumpy Old Men
½
Not the best film of the duo Matthau and Lemmon, but, Grumpy Old Men still a funny and charismatic movie about love, life, family, friends and death in old age.
Lucas Martins
Super Reviewer
An instant classic! This comedy has all the right timing and Jack Lemmon and Walter Matthau make the funniest pair. Don't skip the end credits either, Burgess Meredith has some of the funniest one-liners I've ever heard!
Shawn Ewing
Super Reviewer
Just a really funny movie showcasing one of the best duos in comedy. Jack Lemmon and Walter Matthau are as good together 30 years after their first onscreen partnering. While this isn't as well written or as fresh as The Odd Couple, it's such an untapped market. Squabbling old men is somehow one of the most entertaining things to watch. This also has so much heart and honesty thrown in that you simply can't resist falling in love with the characters.
Conner Rainwater
Super Reviewer
Grumpy Old Men Quotes
There are no approved quotes yet for this movie.