Grumpier Old Men
(1995)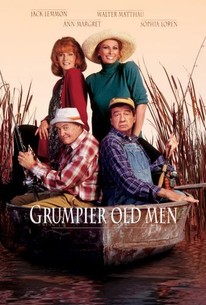 Movie Info
Once again crusty Matthau and sly Lemmon bring forth their craftiest dirty tricks and sharpest barbs in this alternately poignant and hilarious sequel set six months after the wedding between Gustafson (Lemmon) and the luscious Ariel (Ann-Margret). As the story begins, the two pensioners have become grudging pals, content to suspend their constant practical jokes as their children prepare to marry each other. They still enjoy taunting each other at their favorite fishing lake. The fireworks really begin when they learn that the gorgeous and plucky Maria Ragetti (Sophia Loren) and her Italian mother have bought their beloved bait shop and plan to turn it into an Italian restaurant. The two devious fellows, hating the idea that anything should change in Wabasha, Minnesota, team up to keep that restaurant from opening, but Maria is having none of that nonsense and stands her ground. In the face of such feistiness, it is small wonder that Goldman finds himself falling in love, but will he succeed in subduing the equally stubborn Maria? Will he and Gustafson manage to maintain their tentative détente?
Critic Reviews for Grumpier Old Men
Audience Reviews for Grumpier Old Men
½
A good sequel to a great classic! Once again Walter Matthau has the best one-liners!
Shawn Ewing
Super Reviewer
½
"Grumpy Old Men" has been one of my favorite comedy movies since I first saw it when it came out. Therefore, I couldn't wait to see "Grumpier Old Men," the sequel. It's pretty much just like the first one except with more laughs and some new faces. In this one, Max (Walter Matthau) has a son (Kevin Pollak) and John (Jack Lemmon) has a daughter (Daryl Hannah). Max's son and John's daughter are supposed to be getting married soon. Ann Margaret returns in this one and another new person is Sophia Loren along with her Italian mom. Best of all, Grandpa Gustafson returns with his hilarious one-liners in this sequel. "Grumpier Old Men" is even funnier than the first movie was, and the new people fit in with the original cast perfectly. Everybody does a great job of acting. There's a lot of parts in the movie that are unforgettable once you see them such as when Walter Matthau and Jack Lemmon temporarily turn their backs on one another and start playing hilarious pranks on each other, and the fight with the huge catfish. To top it all off, after the movie is over, it shows a lot of outtakes from the film, mainly with Grandpa Gustafson and they're just as hilarious as the movie itself was. If you liked the first movie or if you like comedy movies where the laughs never stop, I recommend getting "Grumpier Old Men." NOTE: That was my Amazon review from the year 2000. Awesome sequel...can't beat Lemmon and Matthau as a duo...R.I.P.
Jason Owens
Super Reviewer
The laughs and the story aren't QUITE as strong this time around, but it's still quite a funny and entertaining film.
Chris Weber
Super Reviewer
Grumpier Old Men Quotes
There are no approved quotes yet for this movie.