Grizzly Park
(2008)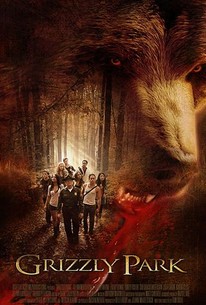 AUDIENCE SCORE
Critic Consensus: No consensus yet.
Movie Info
As part of a new rehabilitation program, eight troubled young adults are sent to serve a week of community service in a remote California state forest range called Grizzly Park. Under the supervision of the stalwart Ranger Bob, the motley group is given an opportunity to seek redemption on their journey though the forest. While Ranger Bob seeks to provide both literal and spiritual guidance to the youngsters, an escaped serial killer with an insatiable blood lust, has found his way into the park with every intention of disposing, one by one, all eight of the young offenders. But he is not the only lethal hunter in these woods!
Critic Reviews for Grizzly Park
Audience Reviews for Grizzly Park
½
A pretty good SyFy Channel movie with a good twist to it. It's better than alot other ones I've seen i'll tell you that.
Jacob Palacio
Super Reviewer
One star movie, extra star for the use of the bear suit.
Ken Stachnik
Super Reviewer
½
As ridiculous and as smile inducing as one would hope. A real grizzly bear trying to look mean, a guy in a bear costume trying to look scary. A film where the token black guy is called Mr. Brown and the fascist Nazi is called Mr. White. It's subtlety like that you just got to love. I really enjoyed the practical effects, and the fact that the bear could rip off your head by simply stroking it. The serial killer sub-plot is a nice red herring and allows for a bit of action during the suspenseful build-up. Morshower's talents are way above this, but he isn't too pretentious or up himself to think so. He gives it his all and has fun along the way. Rodriguez is simply beautiful and Brody the Bear has a bright future ahead of him. A B-Movie I shall be revisiting again and again when I have some beers to get rid of.
Luke Baldock
Super Reviewer
Grizzly Park Quotes
There are no approved quotes yet for this movie.