Green Room
(2016)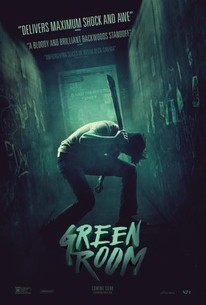 Movie Info
GREEN ROOM is a brilliantly crafted and wickedly fun horror-thriller starring Patrick Stewart as a diabolical club owner who squares off against an unsuspecting but resilient young punk band. Down on their luck punk rockers The Ain't Rights are finishing up a long and unsuccessful tour, and are about to call it quits when they get an unexpected booking at an isolated, run-down club deep in the backwoods of Oregon. What seems merely to be a third-rate gig escalates into something much more sinister when they witness an act of violence backstage that they weren't meant to see. Now trapped backstage, they must face off against the club's depraved owner, Darcy Banker (Stewart), a man who will do anything to protect the secrets of his nefarious enterprise. But while Darcy and his henchmen think the band will be easy to get rid of, The Ain't Rights prove themselves much more cunning and capable than anyone expected, turning the tables on their unsuspecting captors and setting the stage for the ultimate life-or-death showdown. Intense, emotional, and ingeniously twisted, Green Room is genre filmmaking at its best and most original. Saulnier continues to build his reputation as one of the most exciting and distinctive directors working today, with a movie that's completely different from his previous, highly acclaimed Blue Ruin, but which is just as risk-taking and even more full of twists. The entire cast deliver first-rate performances, but Patrick Stewart gives a transformative and brilliantly devious turn as Darcy-elegant yet lethal, droll yet terrifying, Stewart makes the film simply unforgettable.
News & Interviews for Green Room
Critic Reviews for Green Room
Audience Reviews for Green Room
½
Few films in recent years created such a terrifying and hopeless situation within an instant. You can almost physically feel the suspense. And then, to make things worse, the film presents some of the nastiest wounds and horrible deaths of the genre. And in the end, when the dust settles, we learn that even Nazi scum is loved by their dogs. Anton Yelchin will be missed, this is one of his strongest performances.
Churlishly defiant of logic. Those who think there just aren't enough films about intelligent skinheads and neo-Nazis with poorly masked British accents may find "The Green Room" enthralling. For the rest of us, it's just m'eh.
Christian C
Super Reviewer
½
After his little seen debut Murder Party in 2007, Jeremy Saulnier's second film Blue Ruin took the film circuit by storm in 2013 and turned out to be one of the biggest surprises of the year. It was a taught and very well constructed low-budget thriller that reached many people's list of favourites (myself included). As is always the case, though, it brought much anticipation for his third feature. And deservedly so. The pressure was always on but by sticking to a winning formula, Saulnier again delivers a film that has much to recommend it. Punk band, The Ain't Rights, get a last minute booking in a Neo-Nazi club deep in the backwoods of Oregon. What seems like a standard gig soon turns into something very dangerous when they witness a murder backstage. They take refuge in the Green Room, and finds themselves planning and negotiating with the club's ruthless owner (Patrick Stewart) to ensure they walk out alive. As if there wasn't enough attention surrounding what Saulnier would deliver next, this film also had some added publicity with leading actor Anton Yelchin - who died in a freak accident just after the film's release. This adds a bittersweet feeling when watching him onscreen. His death was sad news but Green Room is a wonderful reminder of his talents. What works best with Saulnier's structure, though, is that no one really takes centre stage. This is a siege film that benefits from not knowing which character will perish next and with films of this type, that always adds an extra layer of tension. With the help of Sean Porter's gritty cinematography, Saulnier seems to build tension with ease by using a similar authenticity that Blue Ruin benefited greatly from. His characters feel genuine and he draws out some great performances. Much has been said about Yelchin or an imposing, cast-against-type, Patrick Stewart but it's Blue Ruin's leading man Macon Blair that shines most. Blair is given less screen time here but he's afforded a character who's motivations change throughout the film and his subtlety and three-dimensional approach to the role is very impressive indeed. However, as the film went on I found it harder to invest in. Plot holes gradually crept in and credulity wained in the final third with a relayed paintball experience becoming integral to a particular character's motivations which I found tenuous and a desperate attempt to dig itself out a hole. Some may disagree and have less of a problem with this but it felt jarring an unsatisfactory to me. Normally, this wouldn't be an issue had the film not set itself up so well but it's solid premise and excellent early delivery almost draws attention to it's flaws later on. I admire Saulnier's chutzpah but, despite his flawless direction, his story eventually runs out of steam. That aside, Green Room still has plenty to offer. It may sound like I'm criticising but I'm merely pointing out problems that prevented it from becoming as astute and tightly wound as Saulnier's previous output. To be fair to him, though, that's a very hard act to follow. What it lacks in depth it makes up for in well staged tension. Green Room ain't no Blue Ruin but regardless of how you mix your colours, this is still an interesting and impressively handled thriller. Mark Walker
Mark Walker
Super Reviewer
Green Room Quotes
There are no approved quotes yet for this movie.