Green Mansions
(1959)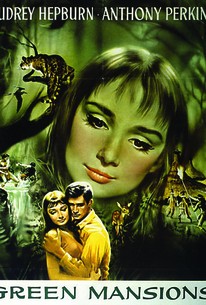 AUDIENCE SCORE
Critic Consensus: No consensus yet.
Movie Info
This romantic drama set in a Venezuelan jungle is based on a novel by W.H. Hudson about Rima, a mythical "bird-woman" and her love for Abel, a man running from political assassination. In this adaptation, Rima (Audrey Hepburn) is a real woman living in the jungle with her adopted grandfather Nuflo (Lee J. Cobb). Abel (Anthony Perkins) escapes his pursuers and meets Rima after a local tribe has taken him under their wing. The unlikely couple fall in love but Abel is haunted by his desire to go back into his world to avenge his father's murder at the hand of his political rivals. While he is struggling with his own dilemma, the local tribe is beginning to believe that Rima is an evil spirit they must destroy.
Critic Reviews for Green Mansions
All Critics (2) | Fresh (0) | Rotten (2)
The ethereal Audrey Hepburn was a good choice to portray a mysterious "bird girl"...but Mel Ferrer's ponderous direction and a gauzypoetic ending defeat the worthy project.
One of Audrey Hepburn's few bad films, a pretentiously mythic and romantic tale, misdirected by her husband Mel Ferrer, and further suffering from lack of chemistry with Anthony Perkins.
Audience Reviews for Green Mansions
Beautiful scenery at times mixed with obvious soundstage shots but labored story. The bird like Audrey who should be ideal casting as Bird Girl Rima is miscast and seems like nothing more than a misplaced debutante late for a cotillion.
God, this movie was really disappointing. Even though my expectations were really low and I was only watching Green Mansions as an excuse to drool over Audrey Hepburn for a couple hours it still somehow managed to skimp in the Saving Graces department. The story was mediocre, the acting was generally overinflated and if the movie wasn't being completely non-engaging, it was completely depressing. Tiny coffin depressing. Hepburn turned in a decent performance considering what she had to work with and the fact that her then-husband Mel Ferrer was in the director's chair, but despite all the reasons I can give for someone not to see this movie, she kind of trumps just about all of them.
Michael Gildea
Super Reviewer
Beautiful! That's how I'd describe this movie. Perkins and Hepburn are fantastic in this movie, and the rest of the cast is great too. The story has adventure and romance combined wonderfully. Some scenes in the beginning are a bit slow and slightly boring, but it doesn't matter in the end. The ending is perfect. I really enjoyed this movie, and I highly recommend this movie.
Green Mansions Quotes
There are no approved quotes yet for this movie.