The Green Hornet
(2011)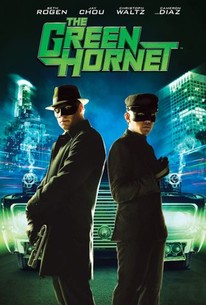 TOMATOMETER
AUDIENCE SCORE
Critic Consensus: It's sporadically entertaining, but The Green Hornet never approaches the surreal heights suggested by a Michel Gondry/Seth Rogen collaboration.
Movie Info
In the 3D action-comedy The Green Hornet, Britt Reid (Seth Rogen) is the son of LA's most prominent and respected media magnate and perfectly happy to maintain a directionless existence on the party scene - until his father (Tom Wilkinson) mysteriously dies, leaving Britt his vast media empire. Striking an unlikely friendship with one of his father's more industrious and inventive employees, Kato (Jay Chou), they see their chance to do something meaningful for the first time in their lives: fight crime. To get close to the criminals, they come up with the perfect cover: they'll pose as criminals themselves. Protecting the law by breaking it, Britt becomes the vigilante The Green Hornet as he and Kato hit the streets. Using all his ingenuity and skill, Kato builds the ultimate in advanced retro weaponry, Black Beauty, an indestructible car equal parts firepower and horsepower. Rolling in a mobile fortress on wheels and striking the bad guys with Kato's clever gadgets, The Green Hornet and Kato quickly start making a name for themselves, and with the help of Britt's new secretary, Lenore Case (Cameron Diaz), they begin hunting down the man who controls LA's gritty underworld: Benjamin Chudnofsky (Christoph Waltz). But Chudnofsky has plans of his own: to swat down The Green Hornet once and for all. -- (C) Sony
News & Interviews for The Green Hornet
Critic Reviews for The Green Hornet
Audience Reviews for The Green Hornet
A pointless action-packed movie that lacks the retro style and doesn't even resemble the TV series, with sleep-inducing action scenes, an irritating dialogue stretched forever and a messy script (co-written by Seth Rogen) that never decides between annoying and tedious.
Carlos Magalhães
Super Reviewer
A spoiled playboy becomes a super-hero after his father leaves him a newspaper fortune. Seth Rogen proved in Take this Waltz that he can play a character that isn't just Seth Rogen speaking someone else's words, but this is Seth Rogen speaking someone else's words. The rest of the cast is a comic book farce with each character playing type with no dimension. The plot is about as predictable as it could be without a single twist or variation from the formula. Overall, I hope Seth Rogen got a lot of money for this film because aside from that, the film fills no other purpose.
Jim Hunter
Super Reviewer
To be honest I think they simply made this film purely to see the 'Black Beauty' (the car) realised and looking sexy as hell in a modern action film. I kinda got the same impression with the film adaptations of 'The Dukes of Hazzard' and 'Starsky and Hutch'. There is so much car porn in this film its quite incredible. I am a bit of a car bod myself so I admit it was quite nice to see the interior of Reid's garage, but geez! car porn!!. Still the whole thing is predictably your typical blockbuster fare with silly over the top stunts, obvious CGI in places and a very very unoriginal plot which seems to be the standard Hollywood plot formula for all films of this genre. Wash, rinse and repeat folks. First up, the very odd Terminator style POV vision used for Kato when he fights was rather strange and misplaced I must say, what the hell! frankly. Also the nasty violent segments and graphic deaths of one or two people (Chudnosky especially) seemed out of place for what is advertised as a film for all. Its one of these curious blends where the film appears to be advertised for the family yet out of nowhere BLAMMO! nasty violence which certainly isn't for the kids. Is this a loose comedy parody or a semi violent crime fighting flick? make your minds up. Cast wise Rogen wasn't too bad as Reid despite him sounding like Fozzie the Bear every time he raised his voice. Some of his quips were amusing yet harmless and his clumsy overweight attempts at action were funny in dumb slapstick kinda way. Chou as Kato was as you would expect really...slick, slim and fast, a basic Bruce Lee air of coolness about his person. The fact he is the guy that does all the actual dangerous heroic stuff yet Reid/The Hornet is useless and gets all the attention was pretty formulaic admittedly, but that's the main gag really. It does work but also kinda smears the image of this crime fighting hero, bit like 'The Lone Ranger' flick really. Could you say they are ruining the legacy of these characters? I guess, but hey anything for a quick laugh and a quick buck right. Waltz was good as the baddie of course although this type of film seems way below his standards and he did feel a bit out of place if you ask me. Diaz was hardly used and quite right too as shes practically useless in everything she's ever done and a terrible actress. Usual silly adaptation from Hollywood here. The original show was a cult but this is just a churned out cookie cutter affair with much over the top nonsense just as we saw with 'Charlie's Angels' and 'The A-Team'. All of which will be (has been) forgotten in the blink of an eye. I'm still waiting for the obligatory film adaptations of 'Airwolf' and 'The Six Million Dollar Man'...come on down.
Phil Hubbs
Super Reviewer
The Green Hornet Quotes
There are no approved quotes yet for this movie.