The Greatest Show on Earth
(1952)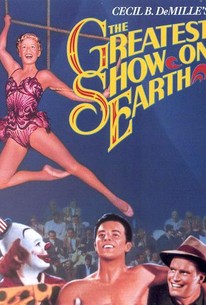 TOMATOMETER
AUDIENCE SCORE
Critic Consensus: The Greatest Show on Earth is melodramatic, short on plot, excessively lengthy and bogged down with clichés, but not without a certain innocent charm.
The Greatest Show on Earth Videos
The Greatest Show on Earth Photos
Movie Info
Cecil B. DeMille's The Greatest Show on Earth is a lavish tribute to circuses, featuring three intertwining plotlines concerning romance and rivalry beneath the big top. DeMille's film includes spectacular action sequences, including a show-stopping train wreck. The Greatest Show on Earth won Academy Awards for Best Picture and Best Story. ~ Stephen Thomas Erlewine, Rovi
News & Interviews for The Greatest Show on Earth
Critic Reviews for The Greatest Show on Earth
Audience Reviews for The Greatest Show on Earth
Cecil B. DeMille's fever dream date matchup is a tussle in a pool of Jello between Hollywood and Ringling Brothers and Barnum and Bailey's Circus, and sports those showmen's sensationalized sweaty, if figurative, kiss and embrace, and indeed it is one for the books. There might not be depth and substance, true, but the glitter will be hard to forget. And hard to clean off.
Kevin M. Williams
Super Reviewer
½
Directed by the legendary helmer of epics Mr. Cecil B. DeMille, this star-studded spectacle which takes a look at the cicrcus world during the golden age of rail-traveling circuses has garnered a reputation over the years for being a big stinkbomb, and one of the worst films to win the Oscar for Best Picture. I will admit that the film really isn't all that great ,and that it didn't really deserve the top honors, but ya know what? It really isn't quite that bad, and it's reputation over the years is rather unfair. Oh sure, it is junk, but at least it's watchable junk. The subject matter is fine, and this film isn't without its redeeming qualities, but it has plenty of issues as well. The main focus is on three interconnected storylines, all of which involve circus performers, love triangles, and various struggles to keep everything running smoothly despite all the drama. The film is overlong, and defintiely in need of some serious trimming and tigtening up. It's also rather silly, cheeky, and somewhat dated. A fair amount of the acting is rather over the top, and at the times the film really descends into being a soap operish melodrama, but it is quite fun, and actually finds a way to not be boring. Where the film really shines is in the great stuntwork, circus act perforances, and some great setpieces. There's even a train crash, which, while coming off as pretty phony now, is still decently done and entertaining. De Mille was rather insistent on making the actors do much of their own stunt work, and he employed real members of the Ringling Brothers and Barnum & Bailey Circuses to serve as extras, consultants, and to help the actors be more authentic. It's mostly works. I mentioned some of the acting could have been better, but it's not all bad. Charleton Heston stars as the big boss Brad BRaden, a no-nonsense guy who has a lot of things to deal with in order to ensure that things run smoothly and that the show goes on. The great Lawrence Tierney has a small role as a shadowy underworld figure named Henderson who has his sights set on taking control of Brad's operations. In probably the film's best role though, we get Jimmy Stewart as an enigmatic clown named Buttons. All in all, this film is a mess, but it's not quite as bad as it gets made out to be. I am somewhat inflating my grade, but that's mostly because the film does have a lot of good stuff going on. I wouldn't have minded if there would have been a lot more depth and subtext, as well as some darker moments, but unfortunately Darren Aronofsky and Christopher Nolan weren't directing here. It'd be cool if either of them did something like this though, cuz you can bet the results would be quite awesome. So yeah, it is flawed and it's more hollow fluff and spectacle than anything else, but I wasn't ever bored, and, it didn't deserve Best Picture, but there's plenty other wnners of the top prize that are far worse than this.
Chris Weber
Super Reviewer
½
Para as gerações mais recentes, quando o circo é mencionado a primeira relação que deve ser feita é com os espetáculos pirotécnicos e acrobáticos de grupos como o Cirque Du Soleil. Para gerações passadas, as imagens relacionadas ao circo são de inocência e nostalgia: o grande espetáculo chegando à cidade, filas enormes de famílias agrupadas para terem a chance de ver um leão ou um tigre de verdade, crianças com a boca cheia de algodão doce e a grande lona abrigando palhaços e malabaristas. Apesar da atual decadência da arte circense, é este tipo de espetáculo que O Maior Espetáculo da Terra nos remete, de uma época onde o circo à moda antiga era uma grande atração. O filme foi dirigido pelo grande Cecil B. DeMille, conhecido por seus épicos grandiosos como Sansão e Dalila e Os Dez Mandamentos. Apesar de fugir do cenário bíblico de época, O Maior Espetáculo da Terra pertence à mesma categoria de filme espetáculo (como o próprio título diz) dos outros dois. De fato, ele foi popular o bastante na época para ganhar o Oscar de Melhor Filme de 1952, algo que hoje é considerado um dos maiores erros da Academia. Acompanhado de uma pomposa narração feita pelo próprio DeMille, somos apresentados a uma equipe do circo Ringling Bros. and Barnum & Bailey. Brad Braden (Charlton Heston) é o durão gerente do circo que vive pelo seu trabalho ("Você tem serragem nas veias" lhe dizem). Ele convence os chefões do espetáculo que este deve se apresentar por uma temporada completa, para a alegria de seus integrantes. Entre estes encontramos Holly (Betty Hutton), a trapezista da equipe que tem um flerte amoroso com Brad, e o palhaço Buttons (James Stewart), que apesar de ser adorado por todos possui um passado misterioso. Brad comunica que, para aumentar a popularidade do circo, irá contratar o Grande Sebastian (Coronel Wilde), um trapezista cuja fama deve assegurar a venda de ingressos. Holly, que estava disposta a se apresentar no picadeiro central, não se agrada com a idéia de ter de dividir a atenção do público, se mostrando disposta a fazer de tudo para ser o núcleo dos aplausos. O que ela não contava é que ela iria cair sob o charme de Sebastian, e enquanto os dois travam uma batalha no picadeiro, Holly também tem que cuidar para não deixar Brad ser encantado por sua rival Angel (Gloria Grahame). Com um enredo tão simples e em vezes até medíocre, é uma surpresa que O Maior Espetáculo da Terra também tenha ganhado o Oscar de Melhor História (precursor do prêmio de Melhor Roteiro Original). O melodramático triângulo amoroso parece ser apenas uma desculpa para unir todas as inumeráveis cenas de picadeiro, com os rasos personagens recebendo pouca atenção, especialmente o palhaço interpretado por James Stewart que tinha o potencial para se tornar o mais interessante deles. Charlton Heston aparece em seu primeiro papel de destaque e divide a atenção da heroína com o canastrão Coronel Wilde. Seu Brad Braden é o único personagem que parece realmente ser apaixonado pelo seu trabalho no circo - ainda que esta paixão seja mais de um ponto de vista administrativo e megalomaníaco do que artístico, e de uma condição do roteiro do que da atuação do ator. Quanto ao resto dos personagens, eles são apresentados como trabalhadores e esforçados, mas não existe entre eles a preocupação de criar a mágica e a ilusão do circo. Todos seus interesses parecem ser meramente interessados nos olhso do público (ao menos até os momentos finais), como Holly e seu desejo de ocupar o picadeiro central. Por não entrar ilustrar melhor tais detalhes e por fugir de mostrar a hierarquia entre os profissionais por trás da grande lona, O Maior Espetáculo da Terra falha ao tentar apresentar uma visão dos bastidores da vida circense. Como já mencionado, a produção se destaca na categoria de "cinema espetáculo", e sua maior intenção parece ser apresentar o circo na tela grande. Intercalado em meio ao ralo enredo (ou seria ao contrário) são diversas cenas em que vemos o mundo circense ganhar vida em "glorioso Technicolor". Em uma enorme parada de cores e vestuários suntuosos, vemos trapezistas saltando sobre a platéia, carros alegóricos cruzando o picadeiro e até mesmo alguns números musicais. Feito em associação com o verdadeiro circo Barnum and Bailey, o filme se destaca no quesito de produção, dando uma autêntica ilusão de como era um espetáculo circense da época (ao menos um de alto orçamento). De fato, DeMille parece tão preocupado com a sedução visual que a maior parte da exagerada duração do filme (152 minutos) é gasta com tais cenas. Para criar alguma tensão nos momentos finais, um personagem surge do nada afim de alguns problemas para o grupo, mas tudo soa apenas como mais uma manobra calculada do roteiro. Apesar de não ser um filme verdadeiramente ruim, o fato de ter ganhado o Oscar de Melhor Filme colocou O Maior Espetáculo da Terra na posição número um de várias listas de "piores filmes a terem ganhado o Oscar". Ainda que tais afirmações sejam sempre discutíveis dependendo da ótica sob a qual o filme é analisado, a produção de DeMille é um deleite aos olhos como um picadeiro colorido, mas oco como uma lona vazia. Para melhores filmes ambientados no mundo circense, procure O Circo de Charles Chaplin, Monstros de Tod Browning ou até mesmo Dumbo de Walt Disney.
Matheus Carvalho
Super Reviewer
The Greatest Show on Earth Quotes
There are no approved quotes yet for this movie.