The Great Northfield Minnesota Raid
(1972)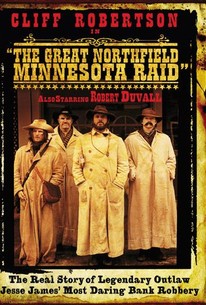 The Great Northfield Minnesota Raid Photos
Movie Info
In this western, Jessie James (Robert Duvall), Cole Younger (Cliff Robertson), and their gang of outlaws concoct a plan to rob the biggest bank west of the Mississippi. After a series of mishaps, the group makes it to Northfield, Minnesota, where the bank is located. However, this is only the beginning of their problems, as their carefully-planned scheme slowly starts to unravel.
News & Interviews for The Great Northfield Minnesota Raid
Critic Reviews for The Great Northfield Minnesota Raid
Audience Reviews for The Great Northfield Minnesota Raid
More of a historical western then a western movie.It wasn't all that bad but there were certain parts that were plain boring & I just wanted to hit the fast forward button.After reading the description, I was expecting it to be an awesome movie but it was just OK
Brody Manson
Super Reviewer
Robertson is a thinker and a dreamer, and Duval is a psychopath, who wants to keep on the Civil War to keep on killing; the film is unique for those two performances and the uncommented on psychedelic visions, which make science-enthusiast Cole Younger an unreligious prophet besides a decent man
Adam Mahler
Super Reviewer
An authentic and grungy western outlaw life is portrayed. There's little glamour here. It shows what drove the men to do what they did. It shows what a crazy guy Jesse James (Robert Duvall) was. The leader Cole Younger (Cliff Robertson) was a fun but reckless individual. They bring a few other oddball characters with them in their robberies. Some strange scenes are thrown in, which show the men enjoying a bathhouse, a trippy near-death scene, a whorehouse, and a muddy baseball game. Throughout the film, they earn their own misfortune. The ending was wacky with the posse parading the outlaws in a cage with calliope. It needs a DVD now!
Lafe Fredbjornson
Super Reviewer
The Great Northfield Minnesota Raid Quotes
There are no approved quotes yet for this movie.