Graveyard Alive
(2003)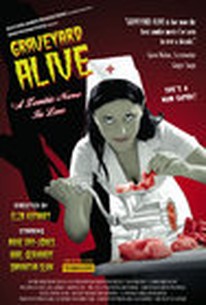 Movie Info
Director Elza Kephart weaves this monochromatic tale of love among the living dead starring Ann Day-Jones, Karl Gerhardt, and Samantha Slan. Patsy Powers (Day-Jones) is a homely nurse who pines for handsome Dr. Dox (Gerhardt). Unfortunately for Patsy, the well-favored physician only has eyes for pretty Goodie Tueshuez (Slan) - a jealous-minded nurse obsessed with popularity. When a foul-smelling woodsman is admitted to the hospital with an axe imbedded in his forehead, the rest of the nurse staff runs for cover as kindly Patsy and the injured worker form a warm bond. Later, after Patsy and the rugged lumberjack share a kiss, the smitten nurse is thrown off guard when he new beau reflexively sinks his teeth into her flesh. As Patsy runs off to bandage her wound, Eastern European doctor-turned-janitor Kapotski recognizes the woodsman as a zombie and ends the man's suffering with a stake through the head. In the days that follow, Patsy's body is gradually taken over by the zombie virus. Not only does the transformation aversely affect Patsy's eating habits, it instills her with a newfound confidence that quickly catches the eye of Dr. Dox as well. Perplexed by her mousy co-worker's sudden transformation and determined to keep Dr. Dox for herself, the scheming Goody soon sets out to uncover the secret of Patsy's rising popularity. Now, as Patsy struggles to stay well fed and Dr. Dox grows increasingly inpatient with Goodie's unpalatable jealousy, the stage is set for a romance fueled by enough passion to transcend life and death. ~ Jason Buchanan, Rovi
Critic Reviews for Graveyard Alive
Audience Reviews for Graveyard Alive
Subtitled "a zombie nurse in love", this budget movie tells the story of a mousy nurse who finds her sexual calling after being bitten by a zombie, and infects the rest of the hospital. Filmed in black and white, with poorly synched dialogue added later, this shows some talent and style but ultimately the blend of horror, comedy, camp, and arthouse visuals fails to work.
Graveyard Alive Quotes
There are no approved quotes yet for this movie.