Graduation
(2007)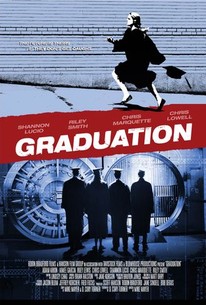 Movie Info
As high school graduation draws near, four high school seniors put their futures on the line to help a friend in desperate need of financial assistance. With a key to the bank and a foolproof plan, how difficult could it be to simply waltz right in, collect a quick $200,000, and disappear before anyone even realized what happened? Unfortunately for these criminally-inclined teens, the local police are quicker to respond than they ever anticipated.
Critic Reviews for Graduation
Audience Reviews for Graduation
Very talented cast. Witty. Clever. Very well done....
Cynthia S.
Super Reviewer
"I was pleasantly surprised with this film. I thought it was going to be a cheese fest with a crappy plot line with mediocre acting. I won't say all the acting was great, but most of it was pretty solid. The robbing of the bank played out pretty smartly. I was surprised at how clever the whole thing was. I didn't see it playing out that way. I like it when a movie that you picked only so you could pass the time turns out to be a good little thriller. Christopher George and Chris Lowell are standouts for me. I have always liked Christopher George. I've seen him in quite a few films. I think this might be my first film that I have seen Lowell in, and I think he did great. If you get the chance to see this then do. Maybe it will surprise you as much as it did me."
♥˩ƳИИ ƜѲѲƉƧ♥
Super Reviewer
½
Graduation is an intense and clever thriller that surprised the hell out of me. It only got 3 1/2 stars, because the beginning drags on forever, but by the end of this film, you will be very satisfied. This young cast led by TV veteran, Chris Marquette, follows four best friends approaching their high school graduation. Unfortunate circumstances lead them to need a large sum of money and they come up with the only option available to them, rob a bank. This is a tough film to review without spoilers, so I can't say more than that, but this is a very clever film, with some great young actors. Although it was slow at first, the ending makes it all worthwhile, and you'll be very surprised at where the groups choices lead them. This may be a b-movie with a no-name cast, but it's one that will change the way you think about certain things and I highly recommend it!
Todd Smith
Super Reviewer
Graduation Quotes
There are no approved quotes yet for this movie.