Gorillas in the Mist: The Story of Dian Fossey
(1988)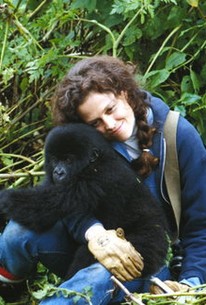 Gorillas in the Mist: The Story of Dian Fossey Photos
Movie Info
Gorillas in the Mist is based on the autobiographical 1983 book by naturalist Dian Fossey. Before the book could be brought before the cameras, Fossey had been mysteriously killed; her death provides a logical, if somewhat ghoulish climax to the film. A Kentucky girl, Fossey (Sigourney Weaver) is inspired by famed anthropologist Louis Leakey (Iain Cuthbertson) to devote her life to the study of primates. Traveling into deepest Africa, Fossey becomes fascinated with the lives and habits of the rare mountain gorillas of the Ugandan wilderness. Studying them at close quarters, Fossey develops a means of communicating with the gorillas, and in so doing becomes obsessed with the beasts' well-being. She is so devoted to "her" mountain that she loses the opportunity for a romance with a National Geographic photographer (Bryan Brown). Appalled by the poaching of the gorillas for their skins, Fossey complains to the Ugandan government, which dismisses her by explaining that poaching is the only means by which some of the Ugandan natives can themselves survive. She refuses to accept this, and becomes a militant animal-rights activist, burning down the poachers' villages and even staging a mock execution of one of the offenders.
Critic Reviews for Gorillas in the Mist: The Story of Dian Fossey
Audience Reviews for Gorillas in the Mist: The Story of Dian Fossey
½
Dynamite little film. I love Sigourney in everything, so I could be a bit biased.
Tim Salmons
Super Reviewer
An insight into the life of Dian Fossey, this a great film
Lady D'arbanville
Super Reviewer
Messed up movie about the woman who studied the gorillas.
Jason Spencer
Super Reviewer
Gorillas in the Mist: The Story of Dian Fossey Quotes
There are no approved quotes yet for this movie.