Gorilla at Large
(1954)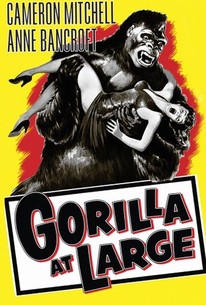 AUDIENCE SCORE
Critic Consensus: No consensus yet.
Movie Info
Gorilla At Large is a more-or-less self-explanatory title for this thriller, set at an amusement park. The major attraction is the gorilla Goliath, and an act in which trapeze artist LaVerne Miller (Anne Bancroft) gets within inches of the ape's potentially deadly grasp. When fired employee Morse is found dead -- impaled on the spikes of the cage used in Goliath's act -- the police are called in; all signs point to the gorilla as the killer, except for the fact that Morse was dead before he was impaled, and as Sgt. Garrison (Lee J. Cobb) says, "Why would a gorilla do that?". A few rounds of questions uncover at least a half-dozen potential suspects, all of whom had opportunity and some with more possible motive than others. Among the more likely are Cyrus Miller (Raymond Burr), LaVerne's husband and the owner of Goliath; Joey Matthews (Cameron Mitchell), a new employee who was about to start a new act, wearing a gorilla suit; and Kovacs ($Peter Whitney}), Goliath's keeper and a strange, hostile loner, who was insulted by Morse just before the latter's death. And then there's Owens (Charles Tannen), the publicist for the show and the most forthcoming of the witnesses, who seems to know more than he's telling. As it turns out, almost everyone involved has some kind of skeleton in their closet that could motivate them to kill -- but when new victims start turning up, almost too fast for Garrison to investigate, Garrison falls for a phony confession that sets up another killing. ~ Bruce Eder, Rovi
Critic Reviews for Gorilla at Large
There are no critic reviews yet for Gorilla at Large. Keep checking Rotten Tomatoes for updates!
Audience Reviews for Gorilla at Large
Drive in fodder would be completely forgotten if not for its cast. Anne Bancroft, looking sensational in Technicolor, is as good as the script allows as are Raymond Burr and Lee J. Cobb. It's fun to see Lee Marvin just starting out as a clumsy cop. The whole thing is nonsensical but harmless unless you count the mystifying decision to make the usually brunette Cameron Mitchell a bleached blond, it does him no favors.
I didn't go into this film expecting to be blown away by a film called Gorilla At Large, but in 3-D I was a little excited. It was fun to see a young Lee Marvin tease a gorilla and Anne Bancroft is just a pleasure to look at, but the 3-D wasn't too impressive. When a Monkey is running a muck at the Santa Monica Pier I want great 3-D and things being thrown at me. I just don't think this film went gimmicky enough and the story wasn't strong enough to hold up.
cody franklin
Super Reviewer
Gorilla at Large Quotes
There are no approved quotes yet for this movie.