Goon: Last of the Enforcers
(2017)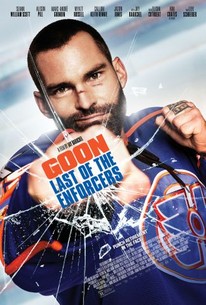 TOMATOMETER
AUDIENCE SCORE
Critic Consensus: Seann William Scott remains as watchable as ever in the title role, but Goon: Last of the Enforcers repeats its predecessor's violent and profane formula to diminishing effect.
Goon: Last of the Enforcers Videos
Goon: Last of the Enforcers Photos
Movie Info
After one too many injuries, hockey enforcer Doug Glatt (Seann William Scott) is forced to give up his aspirations of going to the big show and settle into a buttoned down career as an insurance salesman at the urging of his pregnant wife Eva (Alison Pill). However, Doug can't resist the siren call of the Highlanders, so he sets course to reclaim his former glory.
News & Interviews for Goon: Last of the Enforcers
Critic Reviews for Goon: Last of the Enforcers
Audience Reviews for Goon: Last of the Enforcers
I may, or may not, have gone into this in a prior review, but I've never been much of a sports guy. I mean, I was really into basketball when I was a kid, when Michael Jordan was playing. I was actually pretty good for my age. I mean, I was obviously never gonna be a high-quality basketball player, but for my level, I was good. I played on a few teams, made some pretty cool shots, including one where my back was to the basket. No, seriously. I was also into baseball around the time when Mark McGwire and Sammy Sosa were both chasing Roger Maris' single-season home-run record. I had WGN, which was the home for the Chicago Cubs' games and I actually watched my fair share of them during that era. I also had TBS, which was the home for Atlanta Braves games and, again, I watched a few of those as well. Of course, in hindsight, that home-run chase ended up being a farce considering how roided up Mark and Sammy were at that time. After that point, however, and more specifically after Jordan retired, I haven't really followed sports. I mean, I still keep up with basketball on a more casual basis and the Spurs are my team, even though they have no chance against the Warriors. But it's nothing like it was when Jordan was around. As far as hockey's concerned, I've never been much of a fan. I mean I had an NHL game for the PS2 and I enjoyed it, but I never seemed to get into the sport itself. Hockey, as a whole, is sort of like the red-headed stepchild of the sports world. It's not nearly as popular as football, basketball, baseball and soccer (the latter more worldwide, since hockey is really popular in Canada). I think the problem with hockey is the perception people have of it, where, most, of what you see is the fist fights and brawls between the players. So people have this perception that it's a violent, less respectable sport than football. Which is absurd given the history of concussion, post-retirement, in football that the NFL tried to deny for years. I don't know what hockey's record is since, obviously, it isn't as high-profile as the NFL, but you don't hear as many issues with their players after they retired as you do with retired football players. That's another issue for another day, of course. What brings us here today, however, is this movie. If you didn't know, and if you're watching this movie then you must know, that this is a sequel to what might actually be one of my favorite sports comedies of all time. I say that like I've seen a bunch of them. Problem with most sports movies is their reliance on the inspirational cliches about overcoming all the odds through hard work and determination. This movie, however, doesn't do that. Hell, much like Slap Shot, it focuses on a B-tier hockey league that gets the spotlight because the main hockey league, which I believe is never mentioned by name, has a lockout. Perhaps one of the things I like about this, and this might be silly, is how decidedly small-scale everything is in comparison to the bigger league. The arenas aren't always full, in fact they're hardly ever full, in comparison to the 'big' league and the stakes aren't as high. This movie continues where the last one left off, with Glatt still a member of the Highlanders at the start of a new season, when he is made captain of the team. First game of the season, however, he gets into a fight with the opposing team's enforcer, Anders Cain. This fight leads to Doug getting badly injured and forced into retirement. The Highlanders' owner, Hyrum Cain, wishes to capitalize on the media's focus on the B-tier league by hiring his son, Anders, to play for the Highlanders and immediately making him captain despite not having earned it. He also plans to build the team around him despite, again, not having earned the respect of his teammates. The relationship between Hyrum and Anders is, probably, one of the more surprising elements of the film in that Anders longs to impress his father, who's a bit of a hardass, by doing everything he wants him to do. Doug, now with a pregnant wife, moves on to an insurance job before he finds out that Anders is now the captain of his old team and he recruits and old nemesis, now turned friend, in Ross Rhea to help train him to get him back into the league. Having said that, I feel like I need to point out some flaws right off the bat. It should be obvious that this movie is never as good or as funny as the original. I don't wanna say it's the law of diminishing returns, but the movie does repeat some of the same story beats, even while giving Doug something else to do, what with focusing on his family life now that he's retired and how he desperately wants to be part of the Highlanders again. And the villain, Anders Cain, while certainly a major asshole in his own right, is never as good a villain as Ross Rhea was in the original movie. I suppose that's because Wyatt Russell, who's perfectly good in this movie, doesn't become the character as much as Liev Schreiber became Ross Rhea in the original movie. Liev was just tremendous. And, the funny thing is, that Wyatt Russell actually was a professional hockey player. Though, to be fair, I think the issues with Anders relate more to scripting than anything else. Wyatt. despite his parents being Goldie Hawn and Kurt Russell, is not as good an actor as Liev Schreiber. But the biggest problem has to be the fact that the scripting of Anders, with his literal daddy issues, makes him to be an ineffectual villain for the most part. Because, really, you only feel sorry for him, since he clearly wants to do whatever he can do to gain his father's approval. And that's just sad. I mean, he's still a major asshole and seeing him get his comeuppance in the climax is insanely satisfying, but part of me was expecting Doug and Anders to team up to beat up Hyrum. I think they guide you into thinking that, but they don't pay off on it. Then again, it wasn't meant to be paid off on. Having said that, in spite of some inconsistency issues early on, I'd still call this an enjoyable comedy. Like I mentioned, the comedy is very inconsistent and, while they never get into the groove 100%, the movie does settle down into a more consistent level of comedic output. For example, the addition of the two Russian brothers, who always give Belchy shit about his mother led to some funny moments. Perhaps the best scenes in the movie are those at Sports Desk, a SportsCenter type show, where TJ Miller plays a sportscaster who literally says whatever is in his mind at any given time. James Duthie, an actual sportscaster himself, is his partner and their interactions are comedic highlights. I imagine these scenes must have been a bitch to shoot considering how, I'm sure, TJ Miller tried to crack James up during filming. Again, not as funny as the original, but still funny and entertaining. Perhaps one of the most surprising themes of the movie is the importance of family. If you look at it, this film is about families. Doug and Eva trying to start their own family, now that Eva's pregnant and how Eva struggles with Doug's fighting now that they're bringing a daughter into the world. Anders' issues with his father and how that affects him and his play, which seem to be a cry for attention. And Doug's extended family in the Highlanders. Perhaps they don't go into as much detail with these elements, but it's meant to be a comedy, I doubt you can't fully explore all the dynamics involved here without disrupting some of the comedy. But, with that said, I do think the movie does a great job at making the Highlanders seem like Doug's extended family. They're part of him and he's part of them. Might sound cliche, but they do a very good job at making the Highlander seem more than just a team. The casting remains strong as ever, Sean William Scott is underrated, but he delivers the goods here. One of the things this movie does well is choosing the exact people for which role to play. Kim Coates looks like he could be a hockey coach. Callum Keith Rennie does look like he could be the asshole owner of a lower-tier hockey team. And Wyatt Russell, in spite of my issues with the characterization of Anders, does look like a hockey player. Perhaps he lacks the intimidation factor that Ross had in the original, but he looks like a hockey player (because he actually was). And I think that's something that this film doesn't get recognized for. It's choosing the perfect actor who can embody the role that is assigned to them. That's about it for this review, I've gone on long enough. This movie is obviously never as good as the first one and it's rough going for, like, the first 30 minutes. After that point, however, the film becomes more at ease and enjoyable to watch. I'd say you don't need to watch the original to enjoy this, but I feel like you do. It's not like things aren't gonna make sense, but you'll have a better understanding of established characters and why they are the way they are. Besides, the first Goon is very good, that should be reason enough to watch it, if you haven't already.
Jesse Ortega
Super Reviewer
½
Not as good as the first but I expected that, The story was pretty fun and it was nice to see so many original cast back too and they all play their parts just as good, The fights are as brutal as ever and very bloody too, If you enjoyed the first you should like this just as much.
Jamie Clarke
Super Reviewer
½
The first Goon film was a mix of heart and comedy, unfortunately this falls a little short. Sequels have a tough task of recapturing the magic that made the first film so great and this film hits a lot of cliche pitfalls and some odd choices by the creators. Scott is once again great as the lovable Glatt but he isn't enough to overcome a weird storyline that is more concerned with quick humour. Russell is absolutely crazy as the nemesis Cain but the end conflict doesn't have the same coonection like the first, the hero and villain dynamic was just much different. The film has a lot of humour and the family angle was a nice touch and the best part of the first film was the team dynamic, which this film successfully recaptures. I think this film is the final film in this franchise and while it is fitting for Glatt it is a little underwhelming overall, I just hope we receive another film to close this out. There's a lot worse franchises out there and hockey films in general so another Goon film wouldn't fall on deaf ears. 21-08-2017.
Brendan O'Connor
Super Reviewer
Goon: Last of the Enforcers Quotes
There are no approved quotes yet for this movie.