Goodnight Mommy (Ich seh, Ich seh)
(2015)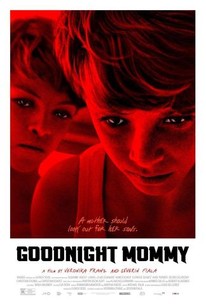 TOMATOMETER
AUDIENCE SCORE
Critic Consensus: Dark, violent, and drenched in dread, Goodnight Mommy is perfect for extreme horror enthusiasts -- or filmgoers who prefer to watch between splayed fingers.
Goodnight Mommy (Ich seh, Ich seh) Videos
Goodnight Mommy (Ich seh, Ich seh) Photos
Movie Info
In the heat of the summer. A lonesome house in the countryside between woods and corn fields. Nine-year-old twin brothers are waiting for their mother. When she comes home, bandaged after cosmetic surgery, nothing is like before. The children start to doubt that this woman is actually their mother. It emerges an existential struggle for identity and fundamental trust.
News & Interviews for Goodnight Mommy (Ich seh, Ich seh)
Critic Reviews for Goodnight Mommy (Ich seh, Ich seh)
Audience Reviews for Goodnight Mommy (Ich seh, Ich seh)
½
An extremely well made psychological horror with quality writing and many superb moments, especially in the bravura second half. There is a narrative twist and I did figure it out but this in no way lessoned the impact (indeed my predicted foreknowledge made for unbearably tense viewing). Susanne Wuest is brilliant as the titular mommy, expertly playing with audience sympathies throughout.
Daniel Parsons
Super Reviewer
To say that this movie is all kinds of fucked up would be the understatement of the year. I don't even know where I could even begin that would be an adequate point to start off this review. One of the things that is most impressive about this film is the fact that a large part of the film, and its horror, was improvised. Yet the film maintains a focus and narrative strength that makes it come across like it was as tightly-scripted as humanly possible, where every shot has a meaning, every line has a purpose and no motion is wasted. Eventually a script was written, but, according to Susanne Wuest, the mother, the kids playing Elias and Lukas, also named that in real life, never read it. It also appears as if they haven't seen the film, which might be for the best. Another thing I like about the movie is the fact that the movie keeps you guessing right up until the very end. You are never quite sure where they are heading and that makes the film a little more harrowing to experience. Let's just say that this isn't as straightforward a film as it appears to be. You could say that there is a twist, but, when you look at the film and you actually inspect the clues that were right there in the open, it makes perfect sense. It all fits within the context of the story the film is telling. The fact of the matter is that the twist makes the film even more disturbing and dark than it already is leading up to it. As far as psychological horror goes, this might be one of the best I've seen in a fairly long time. Particularly how there's even a certain innocence about what the twins are doing. Even as they're doing fairly horrific things to their mother, they're doing so out of the fact that they want to know where their 'real' mother is as this woman, who looks just like their mother, is acting like anything but. Perhaps even innocence is the wrong way to describe it, but it's the closest I can come to. I don't think it ever came into either Lukas' or Elias' mind that what they were doing was wrong. The film is deliberately paced, so I believe that will bother some people who aren't as patient so as to give the film a real shot before dismissing it as being 'too boring'. But, again, to me, even if the film was largely improvised, I think there's still a focus to it and I do think that everything the film shows you serves a purpose into how everything is going to wind up. It's never a boring movie, it's just a little more deliberate and one that will require some patience. Ultimately, however, this ends up being a real disturbing look at the innocence of these twins and what it drives them to do. The film is beautifully shot and the acting is really strong, all around, so there's also that. I can't really describe the third act in detail without really spoiling the movie, but let's just say that it goes to some really dark places. Overall, this movie is pretty damn great, no doubt about it. It's definitely not gonna be everyone's cup of tea, but I thought it was a great, dark and disturbing look into the mind of these twins. Gonna require some patience, but this one is gonna stick with you for a long time.
Jesse Ortega
Super Reviewer
In this genre, what often separates the wheat from the chaff is the visual lexicon, that is - the discernible style of the director which is then boldly captured by the cinematographer. Here writers/directors Veronika Franz and Severin Fiala artfully flaunt a narrative that manifests anxiety. The dread is palpable. The fact that the ambiguous story is created without much clarification intensifies the air of disorientation. Granted there are a lot of red herrings that purposefully mislead the viewer in ways that don't always play fair. I still have no idea what that pizza delivery was about. But in a production such as this, the misdirection only heightens the unease. The script skillfully undermines the strength of the familial bonds we hold dear. I won't soon forget the experience. I just have one nagging question: Why are the Red Cross volunteers in Austria so aggressive? fastfilmreviews.com
Mark Hobin
Super Reviewer
Goodnight Mommy (Ich seh, Ich seh) Quotes
There are no approved quotes yet for this movie.