Good Neighbors
(2011)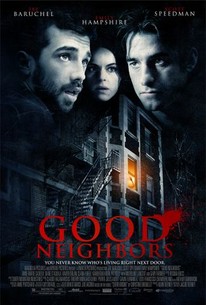 Movie Info
Neighbors Spencer (Scott Speedman) and Louise (Emily Hampshire) have bonded over their fascination with a recent string of murders terrorizing their community. When a new tenant named Victor (Jay Baruchel) arrives in the building, all three quickly hit it off. But as they soon discover, each of them has their own dark secret. As the violence outside mounts, the city retreats indoors for safety. But the more time these three spend together in their apartment building, the clearer it becomes that what they once thought of as a safe haven is as dangerous as any outside terrors they could imagine. Smart dialogue, strong performances and jarring thrills give this film all the elements of a great mystery. -- (C) Magnolia
News & Interviews for Good Neighbors
Critic Reviews for Good Neighbors
Audience Reviews for Good Neighbors
This is a pretty damn amusing indie thriller that relies heavily on its characters rather than the whodunit as you typically see in these films. The movie also has a pretty dark sense of humor. The movie also explores the psychological side to these characters and their various issues they face. So it's a really well-made, well-written movie. At first glance, this movie doesn't really reveal that it could've been as nasty and bloody as it was, and that added a surprising little touch to the movie, especially if you're not expecting it. The acting is pretty damn good and they do a good job at subverting typical thriller tropes. Perhaps they don't subvert them in a way that revolutionizes the genre, but they do a good job nonetheless, because the movie never played out the way I was expecting, outside of maybe who the serial murderer actually was. And that's always a good thing in this type of movie. I do think the movie's climax is a little bit on the weak and anticlimactic side, but I thought overall this was a well-made film, with a intriguing little story about three very flawed people and the shitty things they do. Good movie right here.
Jesse Ortega
Super Reviewer
Quirky. Different. Definitely not the same ole script here, that's what I really liked about it. Something different for a change!! Very refreshing--dark, dark with a hint of comedy. This is a thriller, but not in any usual way. Nasty good fun. I will definitely check out more from this director, Jacob Tierney (actor turned director). He directed The Trotsky (also starring Jay Baruchel), and I really enjoyed that one, as well. I do believe this man has some talent...
Cynthia S.
Super Reviewer
Spencer: Why do you think you're so interested in this stuff? "You never know who's living right next door." Good Neighbors is not the best of suspense thrillers. For one, it lacks suspense for 90 percent of the runtime. The other thing is that it can't decide whether to be too subtle or too gruesome. So it goes for a subtle blandness for the first part of the movie and then begins to throw some pretty morbid stuff at the viewer as it goes. I wasn't expecting some of the graphic violence this film showed halfway through. Violence isn't something that phases me as a moviegoer; it's just that this had a feel of a subtle film, not an in your face one. The story takes place in Canada in the midst of many killings at the hand of some serial killer. Victor moves into an apartment where he meets Louise and Spencer. Louise has a weird dependence on her cats and Spencer is wheelchair bound. The three have dinner and become friends to a certain extent. Then a bunch of crap happens that we aren't suppose to expect, but we kind of do anyway. It's not badly made. It looks pretty good and the cast isn't too bad. Nothing about the movie screams terrible, but nothing about it stands out to the point where I'd want to ever watch it again, or would even recommend to anyone to watch once. It's a decent enough effort though.
Melvin White
Super Reviewer
Good Neighbors Quotes
There are no approved quotes yet for this movie.