Good Morning, Vietnam
(1987)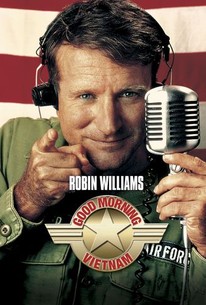 TOMATOMETER
AUDIENCE SCORE
Critic Consensus: A well-calibrated blend of manic comedy and poignant drama, Good Morning, Vietnam offers a captivating look at a wide range of Robin Williams' cinematic gifts.
Good Morning, Vietnam Photos
Movie Info
The film begins in 1965, when disc jockey Adrian Cronauer (Robin Williams) is assigned to take over the AFR's Saigon radio broadcasts. In contrast to the dull, by-rote announcers that have preceded him, Cronauer is a bundle of dynamite, heralding each broadcast with a loud "Goooooood morning, Vietnaaaaam," playing whatever records tickle his fancy (even those not officially sanctioned by his hidebound superiors), and indulging in wild flights of improvisational fancy. Cronauer's immediate superior Lt. Hauk (Bruno Kirby), whose own notions of humor are puerile and pathetic, jealously attempts to dethrone Vietnam's favorite rock jock. Fortunately, Cronauer's popularity is such that he enjoys the full protection of the higher-ups. But when Cronauer, after experiencing the horrors of war first-hand, insists upon telling his listeners the truth instead of the official government line, he is instantly replaced by the unfunny Hauk and must struggle to get back on the air.
News & Interviews for Good Morning, Vietnam
Critic Reviews for Good Morning, Vietnam
Audience Reviews for Good Morning, Vietnam
Robin Williams is excellent, making the most of his improvisation skills and ad-libbing every one of those funny broadcasts (though his frenetic sense of humor may not be for everyone), and it is a great thing that the movie has a lot of heart and understands the complexity of that conflict.
Carlos Magalhães
Super Reviewer
Robin Williams is the heart and soul of everything this film is, finding a perfect balance between his frantic comedy and weighted dramatics. If you're going to watch 'Good Morning Vietnam', you're going to watch it for Robin Williams and Robin Williams alone.
Kase Vollebregt
Super Reviewer
Playing with your emotions until the very end, "Good Morning, Vietnam" is the type of film that will have you thinking a certain way about something until it is completey turned around into something different. Beginning as a comedy about a DJ who has come to Vietnam to run a radio station in hopes to lighten the mood of Troops in the war and to give a quirky version of the serious news to people around the country. Although it is the reason he is brought in, it may also be the reason they want him to leave. One thing leads to another and the film does a total 180, turning into an all out drama where Robin Williams gives one of his best performances ever. Extremely well-written, well-directed, and superbly acted by everyone, "Good Morning, Vietnam" is easily one of the best films I've ever seen Robin Williams in.
Good Morning, Vietnam Quotes
There are no approved quotes yet for this movie.