Good Burger
(1997)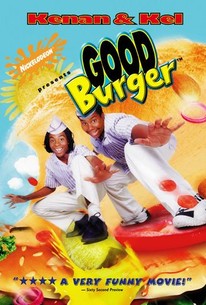 TOMATOMETER
AUDIENCE SCORE
Critic Consensus: Good Burger might please hardcore fans of the 1990s Nickelodeon TV series that launched leads Kenan and Kel to stardom, but for all others, it will likely prove a comedy that is neither satisfyingly rare nor well done.
Movie Info
Sunny, terminally silly farce in which comedy teammates Kenan Thompson and Kel Mitchell try to save a humble burger joint from being devoured by the gaudy rival across the street. Add half a star if youÕre in the pre-teen age group that loves its Saturday night sitcom on Nickelodeon.
News & Interviews for Good Burger
Critic Reviews for Good Burger
Audience Reviews for Good Burger
I put his movie in expecting it to be a film from my childhood that will be terrible in retrospect. Imagine my surprise when watching it, that I found out that 'Good Burger' is a nostalgic flick from my childhood that still holds up rather well when taken on it's own merits. This film is an adaptation of a skit from the SNL-esque Nickelodeon show 'All-That'. I say adaptation because it is more of a Kenan and Kel film with the Good Burger skit providing the setting. The plot is nothing too special. It is your typical suburban adventure with Good Burger trying to stay in business with the villainous Mondo Burger. I will not mince words, this movie is STUPID. The gags are as silly as they can be, the plot is very improbable and most of the humor stems from the idiotic antics of the comic duo of Kenan and Kel. However, it's all in good clean fun. Kids will for sure be enthralled while adults may find themselves giggling at times if they accept the films brand of silliness. Kel Mitchell plays the idiotic but thoughtful character Ed very well and manages to keep him charmingly funny for most of the film's 90 minute runtime. That's pretty impressive considering it could have been a very annoying one-note performance since this movie is based on a one-joke comedy skit. The interactions between the talented comic duo of Kel and his co-star Kenan reminded me why I loved them in the first place. Plus there is plenty of surprising cameo's in this movie like the goofy dressed Sinbad to Shaquille O'Neal. While the jokes can be pretty funny if taken on their own juvenile way, the film does start to run out of comedic steam during the second half. The movie is still overall fun but some of the running gags start to wear thin. Plus if you find yourself annoyed by Kel's character, then you might as well turn off the film. Overall, 'Good Burger' is a decent little family flick that provides enough laughs for everybody. Not bad for director Brian Robbins, who went on to kill Eddie Murphy's career with 'Norbit', 'Meet Dave', and 'A Thousand Words'.
Christopher Heim
Super Reviewer
½
Ed: Welcome to Good Burger! Home of the Good Burger! Can I take your order? There are films that are good; films that are bad; and films that are so bad that they're good. Good Burger falls into the third category. I'm closing into my seventeenth year, and I saw Good Burger for the first time a few weeks back. After some thought, I hated it, but after a repeated viewing, I really found the funny side in this; the bad moments. Ed: Look I'm grape nose boy. Kenan Thompson and Kel Mitchell, popular stars of the old Nickelodeon series All That team up in Good Burger to bring down Mondo Burger, a rival burger joint across the street. The plot's pretty self-explanatory. Customer: Excuse me? Look, I ordered one Good Burger with nothing on it. Ed: That's what I gave you. Customer: No! You gave me a bun. Just a bun! Look! There's no meat in here. Ed: But you said you wanted nothing on it. Customer: Yes, but I expected a meat patty! Ed: Dude, a meat patty is something. You said "nothing". These guys are incredibly funny when together. Kel Mitchell is the dumbfounded worker (hence the quote above), and Kenan is the kid who wants to enjoy summer (hence his fatness). Put these two together in a partnership, and the results are side-splitting. Stupid humor works well for me, and it's definitely worth multiple viewings. Ed: I'm a dude. He's a dude. She's a dude. 'Cause we're all dudes.
Matt Goodman
Super Reviewer
As far as family films are concerned, Good Burger is a terrible example of such a film. This one poorly made film that should never have been made in the first place. I hated this film, and thought it was a waste of time. The script was terrible, poorly executed and the acting was awful. The cast right from the start was mediocre, and I can't understand why this film got made. Seems that they'll make anything to market it to a brain-dead audience. The film is poor, with nothing funny going on, and Sinbad makes this trash even worse. The guy is not funny whatsoever, and this film yet again proves it. This film could have been a good, memorable family film. This film is mediocre in every way, the film is boring with a poorly written script, and the film is simply put a poorly made comedy film that doesn't satisfy. The problem with Good Burger is that gags are poorly conceived, and aren't funny. I saw this when it was first released, and I was pretty young. Back then, I didn't find anything to like about the film, I though that the films humor was pretty stupid and lacked originality. As a family film, Good Burger is a film to avoid, and is not a memorable film by any means. This is a poorly made film with awful acting, awful jokes and an awful cast. Sinbad is terrible, and is actually perfect for this film because this film is about as funny as his so called career. A boring film with little effective comedic substance.
Good Burger Quotes
There are no approved quotes yet for this movie.