Gomorrah (Gomorra)
(2008)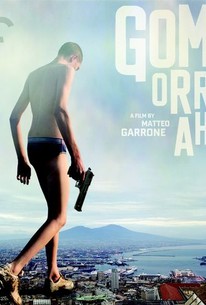 TOMATOMETER
AUDIENCE SCORE
Critic Consensus: Portraying organised crime with an unflinching realism, this gritty and searing Italian crime masterpiece pulls no punches.
Gomorrah (Gomorra) Photos
Movie Info
Adapted from Roberto Saviano's controversial non-fiction book, Matteo Garrone's crime drama Gomorrah examines how organized crime reaches deep into every facet of life in Naples, Italy by telling the tale of over a dozen different characters. Among the main protagonists is a pair of wannabe thugs who take their cue from movie gangsters, a grocery-delivery boy who must learn to kill, and a criminal mastermind who plots to make a fortune while dumping toxic waste near overpopulated communities.
News & Interviews for Gomorrah (Gomorra)
Critic Reviews for Gomorrah (Gomorra)
Audience Reviews for Gomorrah (Gomorra)
½
Histórias de pessoas que tentam sobreviver num suburbio, onde a lei do mais forte à (C) a que vale. Matteo Garrone nos mostra uma realidade que poucos conhecem das familias de classe baixa mà (C)dia italianas, que enfrentam a mafia napolitana. Realista e polêmico.
Lucas Martins
Super Reviewer
½
The mafia has often been romanticized through Hollywood, the image of gangsters and hard edged criminals have been shrouded in legendary status among filmgoers since The Godfather. With Gomorra, the viewer gets an unflinching look at the criminal underworld. The film is quite raw and gritty, and it adds realism, to its story, something that is refreshing in the genre. The performances on-screen are very good, and Gomorra is one of the finest crime films that I've seen in quite some time. The cast do a fine job in their performances, and bring something unique to the screen. Gomorra is a memorable crime film that successfully strips away the romantic qualities of what you expect from the mob and delivers an intense picture that is raw, gritty and ugly. The film succeeds on many levels and it is a crime drama that you won't forget. This is a worthwhile film to watch and it will certainly entertain genre fans looking for something different. Gomorra succeeds on many levels, and if you're looking for a very well acted movie that tells an unflinching story of crime, then this film is the one to watch. Crime films are always hard to pull off, but this one definitely succeeds on many levels. The direction is engaging and the cast elevate the material significantly. Although at time times there are aspects that should have been better, the film manages to tell an engaging storyline that will entertain genre fans. Gomorra is an accomplished film that reinvents the genre. The film at times could have been better, but overall this is a highly entertaining crime film that you shouldn't pass up.
½
A sprawling, multi-layered epic in the vein of "Goodfellas" concerning the rampant crime taking place in Italy, involving five stories and over a dozen characters and showing how each one connects to the illegal activities. Although perhaps a little too big and too overpopulated, this is still a rock-solid film about how pervasive crime environments swallow everything in their paths, and sometimes involve youth that get tricked into thinking it is something that anybody can do as long as they have a gun in hand. This is a film that probably deserves several views, because there is a lot going on and the way it interweaves between stories might lose some viewers. Overall a good film, and one that deserves a watch.
Dan Schultz
Super Reviewer
Gomorrah (Gomorra) Quotes
There are no approved quotes yet for this movie.