The Golden Child
(1986)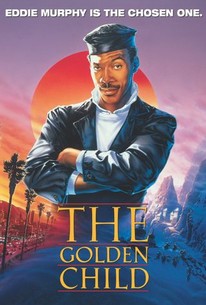 Movie Info
Eddie Murphy followed up his Beverly Hills Cop success with this fantasy adventure that plops him right into the land of Ray Harryhausen and Indiana Jones. The plot revolves around a God-like youngster (J.L. Reate) known as a "golden child," who has been sent to Tibet to bring the gift of compassion to humanity. But the devil isn't idle, sending his emissary, Sardo Numspa (Charles Dance) to kidnap the golden child. Sardo absconds with the child and takes off to Los Angeles. In L.A., a beautiful Tibetan priestess named Kee Nang (Charlotte Lewis) seeks out Chandler Jarrell (Eddie Murphy), a social worker and self-styled "finder of lost children." She tells Chandler he has been chosen to rescue the magical child from the devil and save the world from evil. Before Chandler can let go of his first riposte, he finds himself holding a magic dagger, following a sacred parakeet, and under-going several trials by fire. He also falls in love with Kee Nang, who at one point in the film has to be brought back from the dead. ~ Paul Brenner, Rovi
Critic Reviews for The Golden Child
Audience Reviews for The Golden Child
Eddie is a private eye who has to find a kidnapped child.
Candy Rose
Super Reviewer
½
[Re-watch] Movies may have moved on in terms of effects, but this is still an easy watching good prevails evil family film with comical input by Eddie Murphy.
Lady D'arbanville
Super Reviewer
Anatoliy Dudaev
Super Reviewer
The Golden Child Quotes
There are no approved quotes yet for this movie.