Elizabeth: The Golden Age
(2007)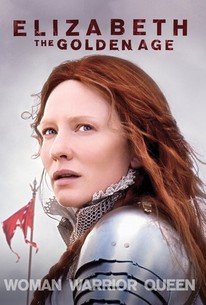 TOMATOMETER
AUDIENCE SCORE
Critic Consensus: This sequel is full of lavish costumes and elaborate sets, but lacks the heart and creativity of the original Elizabeth
Elizabeth: The Golden Age Photos
Movie Info
"The Golden Age" finds Queen Elizabeth I facing bloodlust for her throne and familial betrayal. Growing keenly aware of the changing religious and political tides of late 16th century Europe, Elizabeth finds her rule openly challenged by the Spanish King Philip II--with his powerful army and sea-dominating armada--determined to restore England to Catholicism. Preparing to go to war to defend her empire, Elizabeth struggles to balance ancient royal duties with an unexpected vulnerability in her love for Sir Walter Raleigh. But he remains forbidden for a queen who has sworn body and soul to her country. Unable and unwilling to pursue her love, Elizabeth encourages her favorite lady-in-waiting, Bess, to befriend Raleigh to keep him near. But, this strategy forces Elizabeth to observe their growing intimacy. As she charts her course abroad, her trusted advisor, Sir Francis Walsingham, continues his masterful puppetry of Elizabeth's court at home--and her campaign to solidify absolute power. Through an intricate spy network, Walsingham uncovers an assassination plot that could topple the throne. But as he unmasks traitors that may include Elizabeth's own cousin Mary Stuart, he unknowingly sets England up for destruction.
News & Interviews for Elizabeth: The Golden Age
Critic Reviews for Elizabeth: The Golden Age
Audience Reviews for Elizabeth: The Golden Age
Overly dramatic and cheesy like a soap opera, this stupid costume drama made to dazzle us with its sumptuous production design seems like two stories in one and cannot decide if it wants to be a romance for women or a backstabbing period drama, and so it simply fails as both.
Carlos Magalhães
Super Reviewer
½
This unofficial sequel to Shekhar Kapur's first film about Queen Elisabeth the First manages to reunite the fantastic Cate Blanchett and Geoffrey Rush, reprising their roles and keeping the visual style about the queen's first years of reign. This is the story of her flirt with Sir Walter Raleigh and the threat of the Spanish armada. Even if the film is a tad slow at times, the mix of intrigues, politics and personal issues works great again. Several factors raise this film high above an interesting but dry history lesson: wonderful costumes, the really unique camera work, Cate Blanchett giving another truly outstanding performance, Clive Owen and his charming charisma, an all around great cast and a very powerful finale with the prettiest sailing ship battles you have ever seen (although admittedly, after the amazing trailer you could have hoped for even more of those). Very good and worth seeing for everyone even remotely interested in the genre.
Phenomenal sequel to Elizabeth, Cate Blanchett delivers a stunning performance in the title role. Though the film has gotten some flack for its romantic storyline, it's also part of history. I thought that this film was just as strong as the first, and that Blanchett delivered yet again. The film is a great looking piece of cinema, and the story, though slow at times is well plotted, and the pacing is just right for the great climax of the film. There are enough good things going for this film to forgive its slight imperfections. The performances alone make this a strong, flawless and powerful film. As far as sequels are concerned, Elizabeth: The Golden Age belongs on the short list of films that are just as good as or better than the original. Elizabeth: The Golden Age is a great film with a strong story and great performances. The film is just as good as the original, and despite its flaws, there are enough good things about this film to really enjoy it. The film is entertaining, and slow, but for a film like this, the pacing is just perfect. Elizabeth: The Golden Age is a great film, and along with the first film is a solid piece of cinema that should appeal to history fans. If you can forgive the love story, you'll enjoy this. A brilliant film with great performances make this a must see. A very enjoyable film that is a splendid period piece. A must see.
Elizabeth: The Golden Age Quotes
There are no approved quotes yet for this movie.