Gold
(2017)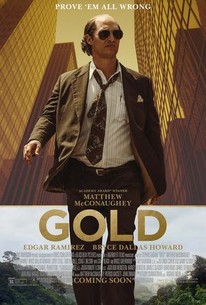 TOMATOMETER
AUDIENCE SCORE
Critic Consensus: Gold boasts an impressively committed performance from Matthew McConaughey, but it's just one glittering nugget in an otherwise uneven heap of cinematic silt.
Movie Info
TWC-Dimension presents GOLD, a Black Bear Pictures and HWY61 production directed by Academy Award winner Stephen Gaghan (Syriana, Traffic) and produced by Teddy Schwarzman (The Imitation Game, All is Lost) for Black Bear Pictures and Michael Nozik (Syriana, The Motorcycle Diaries) for HWY61. Directed by Academy Award winner Stephen Gaghan (TRAFFIC, SYRIANA), the film stars Academy Award winner Matthew McConaughey (INTERSTELLAR, DALLAS BUYERS CLUB, THE WOLF OF WALL STREET) and Golden Globe nominees Edgar Ramirez (HANDS OF STONE, THE GIRL ON THE TRAIN) and Bryce Dallas Howard (JURASSIC WORLD, PETE'S DRAGON), Corey Stoll (Ant-Man, "House of Cards"), Toby Kebbell (Dawn of the Planet of the Apes, Fantastic Four), Bruce Greenwood (Star Trek, Capote), Golden Globe winner Stacy Keach (American History X, Nebraska), and a powerful ensemble cast. The screenplay for GOLD was written by Patrick Massett and John Zinman ("Friday Night Lights"), who also serve as producers. Executive producers are Paul Haggis (Crash, Million Dollar Baby), Ben Stillman, and Richard Middleton (The Artist, I Love You Phillip Morris) as well as Bob Weinstein, Harvey Weinstein and David Glasser. Key members of the production team include Academy Award winning director of photography Robert Elswit (There Will Be Blood, Syriana), Academy Award nominated production designer Maria Djurkovic (Tinker Tailor), and Academy Award nominated costume designer Danny Glicker (Milk).
News & Interviews for Gold
Audience Reviews for Gold
Stephen Gaghan has worked mostly behind the scenes as a screenwriter in his early days when he first hit LA with "I Know What You Did Last Summer." Since then, he has graced us with "Traffic" (screenwriter) and "Syriana" (screenwriter/director) as his only two "fresh" movies. Fast forward nearly 12 years, and he has all-star actor Matthew McConaughey under his wing with a story worthy of putting on the silver screen. It's just a shame what should be a shining bright nugget gets stuck in the mud without a sifter to help find its way to the light. McConaughey puts in a fully committed performance as Kenny Wells. Too bad it goes to waste on a movie that doesn't quite hold your attention with the story as much as it does with his eccentric transformation. It's a age-old classic of the American Dream, except instead of drugs and violence, we get Gold. Think a poor man's Wolf of Wallstreet and about an hour shorter. While Scorsese's movie dragged for hours with detail on even the most trivial of things, Gold doesn't give enough of it to accurately portray the full picture. It's tough to watch a McConaughey movie and not be impressed by his acting, but it's another thing to watch a movie that so under utilizes his talents because the script is so light in all the right spots. Without the relationships, we have no one and nothing to pin our eye to.
Lane Zieben
Super Reviewer
½
Much like The Founder, Gold is a story about ambition, persistence, and the American Spirit. While it's not as good as The Founder was, McConoughey and Ramirez performances are enough to give this film a passing grade.
Jacob Smith
Super Reviewer
You can have man breasts and a crappy comb over but still it is McConaughey playing himself in Gold . First section was so boring I feel asleep but woke up in time to kinda enjoy the last half. Where did the actor McConaughey go that was so terrific in Mud? BDH was nice to look at at least. First bummer of '17. (2-2-17)
Gold Quotes
There are no approved quotes yet for this movie.