Goin' South
(1978)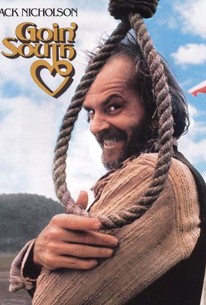 Movie Info
Sentenced to hang in a backwater western town, horse thief Henry Moon (Jack Nicholson) is saved when frontierswoman Julia Tate (Mary Steenburgen) agrees to marry him. Taking advantage of the town law that prohibits the execution of married men, Moon follows Tate back to her ranch, planning all the while to escape at the first possible opportunity. But Tate insists that he honor his end of the bargain at work on the ranch. She has no intention of consummating the union, a fact that drives the hot-to-trot Moon up a wall. She puts him to work on the gold mine that she has on her property, while his old gang prepares to relieve the couple of their gold once it's on the surface. Jack Nicholson personally selected movie newcomer Mary Steenburgen for Goin' South. The film also features John Belushi in the role of a dyspeptic deputy.
Critic Reviews for Goin' South
Audience Reviews for Goin' South
½
This comedic western romance concerns a third rate criminal named Henry Moon, who, moments before he is to be hanged for horse thievery, is saved, thanks to a law in the backwater Texas town, allows for a woman to save a criminal from death, barring she agrees to marry him and take responsibility for his behavior. And that's what happens: Julia Tate claims the grateful Moon who soon regrets the arrangement when it's revealed she only really wants to use him as manual labor for a gold mine she swears is on her property. Aside from that, Moon also has problems with the Sheriff. Not only does he not care for Moon to begin with, but he also feels like Moon took Julia away from him, viewing her as "his girl". Featuring an all star cast, and directed by its star Jack Nicholson, this had potential to be an absolute riot. Unfortunately, while the film starts off strong, it devolves into an uninspired bore and never quite recovers. There are some good moments here and there, but there's not really enough to save this from being a generic "meh" kind of film. This is a top notch cast who, besides Nicholson includes the likes of John Belushi and Mary Steenburgen in their film debuts, he as a deputy, she as Julia, and CHristopher Lloyd as the sheriff. There's also appearance by Ed Begley, Jr., Veronica Cartwright, and Danny DeVito. Nicholson and Belushi really ham it up and appear to be having a lot of fun, but Lloyd, while okay, could have been even better. I like Mary Steenburgen alright, but she's not all that good hear. Granted, it is her first film, but still, she's kinda awful. At least we get a brief glimpse of her nipples through a wet shirt... I really wanted to like this movie, and, even though I did enjoy it in parts, as a whole, it's a real disappointment. Unless you're a completist for anyone in the cast, I don't really recommend this.
Chris Weber
Super Reviewer
½
I like that Doc Brown and Claira are together again in the old west. Jackie boy does a fun job as well.
Curtis Lilly
Super Reviewer
½
Funny classic comedy western.
Lafe Fredbjornson
Super Reviewer
Goin' South Quotes
There are no approved quotes yet for this movie.