Godzilla Resurgence (Shin Godzilla)
(2016)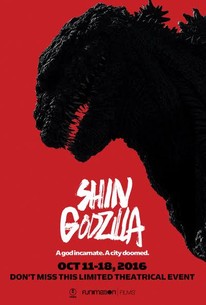 TOMATOMETER
AUDIENCE SCORE
Critic Consensus: Godzilla Resurgence offers a refreshingly low-fi -- and altogether entertaining -- return to the monster's classic creature-feature roots.
Godzilla Resurgence (Shin Godzilla) Videos
Godzilla Resurgence (Shin Godzilla) Photos
Movie Info
Make way for the ultimate homage to one of the most enduring legends of the big screen-Godzilla! The King of the Monsters is back in Tokyo for a city-crushing crusade that speaks to the very roots of the world-renowned franchise. It's a peaceful day in Japan when a strange fountain of water erupts in the bay, causing panic to spread among government officials. At first, they suspect only volcanic activity, but one young executive dares to wonder if it may be something different... something alive. His worst nightmare comes to life when a massive, gilled monster emerges from the deep and begins tearing through the city, leaving nothing but destruction in its wake. As the government scrambles to save the citizens, a rag-tag team of volunteers cuts through a web of red tape to uncover the monster's weakness and its mysterious ties to a foreign superpower. But time is not on their side-the greatest catastrophe to ever befall the world is about to evolve right before their very eyes.
News & Interviews for Godzilla Resurgence (Shin Godzilla)
Critic Reviews for Godzilla Resurgence (Shin Godzilla)
Audience Reviews for Godzilla Resurgence (Shin Godzilla)
½
Finally a new Godzilla movie with some teeth! What makes this interesting though are the scenes depicting how the folks behind the scenes hope to get rid of the big lizard. There's a hierarchy. The proper people need be seen first. The whole Japanese collective thinking machine displayed pretty convincingly. Versus the American style. Yep. There's a "versus the Americans" thread going that spices the proceedings some. Bring on the next!
Kevin M. Williams
Super Reviewer
½
A good and entertaining return to the original Japanese Godzilla series, It wastes little time getting to the destruction and there's an awful lot at times, Godzilla's style was very old fashioned and even though it looks very weird it's the classic look, There's some humour and camp bits at times but doesn't effect the movie, The effects were amazing with the city carnage and action make the movie as good as it was.
Jamie Clarke
Super Reviewer
Shin Godzilla is unlike just about any monster movie you've ever seen, and I don't know if that's a good thing. The newest rebirth of the famous giant monster takes a new approach to large-scale destruction: bureaucratic minutia. This feels like a state department underling's doctoral thesis that was adapted into a feature film. We get a team of different intelligent operatives talking Aaron Sorkin-level fast and trying to work through the red tape of government to address the pressing needs of a giant fire-breathing lizard. It's like 80% government bureaucratic milieu and 20% monster movie. We get treated to just about every meeting room in Japan as the majority of scenes last a whopping 10-15 seconds. The pacing is so clipped, the satire is so understated, and the characters so numerous, that I was easily lost in the weeds and that was before Godzilla made its less than auspicious debut on screen. It's nothing short of what one of my friends described as a "turkey snake," and the googly eyes aren't helping. I'll make the same demand that I made with the 2014 American Godzilla movie: I need more Godzilla in my Godzilla movie, please. For fans of the series, they'll likely connect more with the social conscience platform and political critiques, but I couldn't engage at all. I was eagerly waiting for this movie to just be over so I could shake it from my head. It felt like being talked at in the corner of a party by someone who just read a book on a topic that you couldn't care less about. I'll grant the filmmakers credit for finding a different approach and one seeped in the realistic details of government action, but if you're like me, by the fifteenth conference room your eyes will glaze over. I don't think this was the best approach for a film narrative and it completely drains the fun from giant monsters. Nate's Grade: C
Nate Zoebl
Super Reviewer
Godzilla Resurgence (Shin Godzilla) Quotes
There are no approved quotes yet for this movie.