Godsend
(2003)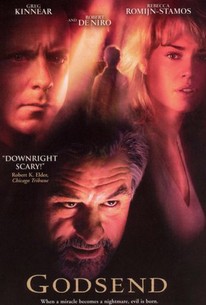 TOMATOMETER
AUDIENCE SCORE
Critic Consensus: A murky thriller with few chills, Godsend features ludicrous dialogue, by-the-numbers plotting, and an excess of cheap shocks.
Movie Info
Paul and Jessie Duncan have lost their beloved eight year-old son Adam in a tragic accident. As they are arranging for his burial, Dr. Richard Wells, approaches with the incredible offer to clone Adam, essentially bringing back their boy and reuniting their broken family. Despite the many legal, ethical and moral issues raised by the offer, the grieving couple, after much soul searching, accept Wells' proposal, placing them in a sort of Faustian pact with the doctor. But to the Duncans, the secrecy Wells demands is insignificant compared to the hope that their son will again have the chance to grow up. The couple moves to the small town of Riverton, home of Wells' impressive Godsend Fertility Clinic, where the stem cells carrying Adam's DNA are implanted in Jessie's womb and where Adam will be born and raised for the second time. Adam's new life follows a comfortable and, to Paul and Jessie, predictable pattern, until he reaches his eighth birthday and virtually begins living on borrowed time. The parents have placed their complete trust in Dr. Wells, but now questions are raised and they start to wonder: just how far did he really go? Did he settle for simply playing God? Once they unravel the horrific truth, Paul and Jessie Duncan will have to come to terms with what they have done, and what has been done to their family.
Critic Reviews for Godsend
Audience Reviews for Godsend
holy craap ANOTHER SECRET WINDOW ENDING MOVIE??? man i guess i just forgot how many movies used that ending
Coxxie Mild Sauce
Super Reviewer
½
Human cloning is the topic, and it would of been a great movie had they kept it just as that. The movie itself had a great plot & start but the horror twist that they decided to throw in kind of ruined it.... They could of played with a persons emotions and really made a good flick without the cheesy special effects and crazy son killing a mother for no reason at all. Why would one be interested in cloning a kid who butchered his entire family knowing mental traits would be passed on as well? It does not make much sense after the first half... It's still an interesting show to watch and the concept is easy to grasp with some interesting food for thought. But it's not the best, and could of been much better.
Bobby Hobbs
Super Reviewer
Further proof, if any were needed, that Robert De Niro will make any old tripe if the fee is right. This is an unbelievably awful, instantly forgettable paranormal chiller. The parents of a genetically cloned child spend the entire film trying to prove there's a malevolent kink in his DNA and then, when they find this to be true, they choose to ignore it! How's that for plotting? The kid isn't creepy enough to make an impact, and the film is so painfully dull it feels three times longer than it actually is.
Godsend Quotes
There are no approved quotes yet for this movie.