God's Not Dead
(2014)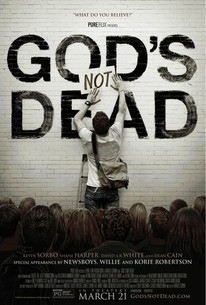 TOMATOMETER
AUDIENCE SCORE
Critic Consensus: Deploying sledgehammer theatrics instead of delivering its message with a dose of good faith, God's Not Dead makes for bad drama and an unconvincing argument to the unconverted.
Movie Info
Present-day college freshman and devout Christian, Josh Wheaton (Shane Harper), finds his faith challenged on his first day of Philosophy class by the dogmatic and argumentative Professor Radisson (Kevin Sorbo). Radisson begins class by informing students that they will need to disavow, in writing, the existence of God on that first day, or face a failing grade. As other students in the class begin scribbling the words "God Is Dead" on pieces of paper as instructed, Josh find himself at a crossroads, having to choose between his faith and his future. Josh offers a nervous refusal, provoking an irate reaction from his smug professor. Radisson assigns him a daunting task: if Josh will not admit that "God Is Dead," he must prove God's existence by presenting well-researched, intellectual arguments and evidence over the course of the semester, and engage Radisson in a head-to-head debate in front of the class. If Josh fails to convince his classmates of God's existence, he will fail the course and hinder his lofty academic goals. With almost no one in his corner, Josh wonders if he can really fight for what he believes. Can he actually prove the existence of God? Wouldn't it just be easier just to write "God Is Dead" and put the whole incident behind him? GOD'S NOT DEAD weaves together multiple stories of faith, doubt and disbelief, culminating in a dramatic call to action. The film will educate, entertain, and inspire moviegoers to explore what they really believe about God, igniting important conversations and life-changing decisions. --(C) Official Site
Critic Reviews for God's Not Dead
Audience Reviews for God's Not Dead
One of the most overstuffed and shallow screenplays in cinema history is complimented with some terrible visuals and some horribly one-sided messages that will be offensive not only to minorities, but also potentially Christians. God may not be dead, but with this movie, it sure seems like good cinema is.
Joey Traverso
Super Reviewer
½
Do casting directors have to go to special agencies to assemble a cast so bereft of talent? This film is probably best appreciated by those who have not been to college and have no need for intellectual conversations with others.
Christian C
Super Reviewer
½
It's a little corny, but God's Not Dead has a positive message about standing up for one's beliefs. Based on a series of court cases where colleges have infringed upon students' religious liberties, freshman Josh Wheaton takes up his philosophy instructor's challenge to prove that there's a God; and in doing so he starts a ripple effect that spreads throughout his community. The acting's pretty poor all around, and the writing's not that good either. Yet it's rather interesting how the story plays out and interconnects the different characters. And, there's an inspirational quality that comes through as well. Though it has some problems, God's Not Dead ends up being more than the sum of its parts.
Dann Michalski
Super Reviewer
God's Not Dead Quotes
There are no approved quotes yet for this movie.