Gods and Monsters
(1998)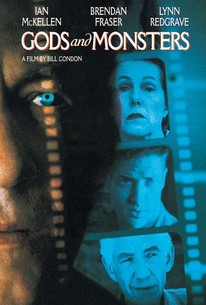 TOMATOMETER
AUDIENCE SCORE
Critic Consensus: Gods and Monsters is a spellbinding, confusing piece of semi-fiction, featuring fine performances; McKellen leads the way, but Redgrave and Fraser don't lag far behind.
Movie Info
Hollywood history comes to life in this tale of the last days of Frankenstein director James Whale, played by Sir Ian McKellen. Long forgotten by the studios, Whale has retired to pursue painting and a life of leisure. Gods and Monsters explores his final fascination with a handsome gardener, Clayton Boone.
News & Interviews for Gods and Monsters
Critic Reviews for Gods and Monsters
Audience Reviews for Gods and Monsters
I think there is an interesting film in here, but it is severely hampered by a poor script and a dreadful performance by Brandon Fraser. I know what you are thinking. How could the "Monkeybone" veteran give a less than stellar performance? Well I don't know how, but he does. While I understand that in many ways Fraser's character is supposed to mirror the Frankenstein monster, donning a flattop and not pausing much for thought, Fraser gives off the impression that he is too dim to actually even pull off acting dim. In fact, he acts a lot like I'm sure most of America believes he does when the cameras aren't rolling. I actually gave in to mild bursts of laughter just watching him "act". While I would have liked to see the story of James Whales, I was too busy trying to make sense of how Fraser got this role.
First of all, to the reviewer who said you felt molested watching this movie. You're homophoic and should see someone about that. I thought it was really great. A nice telling of a Hollywood legend (not unlike Hollywoodland - but better!) I love Sir Ian McKellen and was doubtful on Fraser, but he really held his own. He wasn't fantastic, but he wasn't Keanu Reeves. I also really liked the subtle, sparse and dry humor interjected every little while. Something I wasn't quite expecting but it was nice. Most of it done by Ms. Redgrave. Overall a nice movie, not spectacular but definitely worth watching!
Jennifer D
Super Reviewer
½
A very touching and sometimes ammusing look at the life of film Director James Whale. It is also a very telling look at the sad results of Hollywood's version of "Don't Ask Don't Tell", which (for the most part) is still in effect today. . Ian McKellen is brilliant in the role of Mr. Whale as is Lynn Redgrave as his faithfull (no pun intended) housekeeper. Brendan Fraser does very well, but comes across as a bit out of his league having to share the screen with those two.
Gods and Monsters Quotes
There are no approved quotes yet for this movie.