Goats
(2012)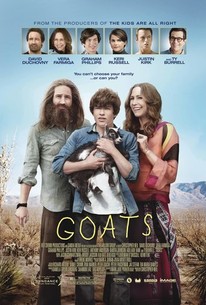 TOMATOMETER
AUDIENCE SCORE
Critic Consensus: Goats reaches for profundity but mostly offers inane bleating, with David Duchovny's beard proving the most distinguishing feature of this bland dramedy.
Movie Info
In Goats, Ellis (Graham Phillips) is the most adult member of his eccentric family at 15 years old. His mom (Vera Farmiga) is a New Age hippie that spends all of her time working on self-help rituals with her hustler boyfriend (Justin Kirk). His dad (Ty Burrell) left home years ago and is more focused on his new wife (Keri Russell) and family. And then there's Goat Man (David Duchovny), the goat-herding sage who has lived in their pool house since Ellis was a child, teaching him the meaning of stability, commitment, and expanding one's mind. When Ellis decides to leave Tucson to go to the same East Coast prep school that his father went to, he easily assimilates to his new environment - even gaining the attention of a local girl (Dakota Johnson). But as he re‐connects with his estranged father, he finds Goat Man's influence and his life out West thrown into stark contrast. -- (C) Image
News & Interviews for Goats
Audience Reviews for Goats
In "Goats," 15-year old Ellis(Graham Phillips, of "The Good Wife) is leaving home for the first time to attend a prep school back east and will not be around anymore to do the bookkeeping for his mom(Vera Farmiga). What she is really angry about is that this might bring him into the orbit of the estranged baby daddy(Ty Burrell), but at least she has Bennet(Justin Kirk, always where the pot is) to keep her company. And at least Goat Man(David Duchovny) promises to send Ellis some weed which would not be such a big problem if Ellis and his roommate Barney(Nicholas Lobue) were not caught smoking by the track coach(Anthony Anderson) who in turn blackmails Ellis into trying out for the team. In the entry in the dictionary for the word scattershot, there should be a copy of the movie poster of "Goats, as aimless it can be, emphasizing the strange places some of us have to go for our Vera Farmiga fix. So, maybe you can't make a very good movie involving goats. The important thing is the movie is also brimming with non sequiturs which in the right place, namely here, can be sort of fun, as the movie follows a teenager coming of age and choosing who he wants to be while being torn between two very different lifestyles. And it does not hurt that David Duchovny gives a surprisingly relaxed performance while Keri Russell proves that "The Americans" is no fluke.
Strangely endearing, but not very exciting. I most likely added a half a star due to David Duchovny being in it. He is a funny, lovely man...
Cynthia S.
Super Reviewer
"What an odd but enjoyable film. If you like a good dysfunctional family film, then this is a movie for you. The mother, Wendy, is far, far out there. I have never seen David Duchovny this way, and I liked it. Goat Man is very cool, lol. It's your usual story of a boy who is estranged from his father, has a crazy loon of a mother, and hippie substitute for a father. It's definitely one of the more quirkier films I have seen this year. I liked Ellis. I felt bad for the kid though. His mother is way to dependent on him which makes her take the childs role while he plays grown up. Goat Man steals every scene he is in. He's definitely one of the most interesting characters I've seen in awhile. It's a fun little indie flick. I would see it again."
♥˩ƳИИ ƜѲѲƉƧ♥
Super Reviewer
Goats Quotes
There are no approved quotes yet for this movie.